Canon 071 vs 071H: What's the Difference and Which to Buy?
Canon 071 vs. 071H, which one to buy? Not long ago, Canon released new toner cartridges, Canon 071 and 071H. These two toner cartridges may not be strange for Canon users who use Canon ImageCLASS LBP122dw, MF272dw, CMF273dw, and MF275dw. But, do you know the difference between Canon 071 and 071H, and which one should be your best choice to buy?
In this blog post, we will explore the similarities and differences between these two options and guide which one to choose based on your needs and preferences. By the way, we will also recommend compatible Canon 071 and Canon 071H toner cartridges available on our website. They are good options for those who want to save money but don't want to compromise on print quality.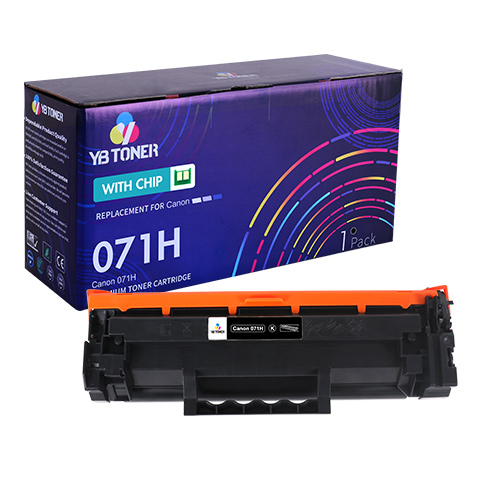 Compatible Canon 071H Toner Cartridge (With Chip) – High Yield
High Print Quality
With a High Page Yield of 2,500 Pages
2-Year Product Warranty
30-Day Money Back Guarantee
Free & Same-Day Shipping
Super Low Price: $45.95
Canon 071 vs 071H: The Same Traits
Print Quality:
When it comes to print quality, both the Canon 071 and 071H offer exceptional performance because they are original toner cartridges from Canon. That means that they are manufactured using nearly the same high-quality materials and adhere to the same standards set by Canon. Regardless of which one you choose, you can expect crisp and professional prints.
Applicable Printer Models:
Both the Canon 071 and 071H are compatible with various Canon printers. And the printers includes the Canon imageCLASS LBP122dw, Canon imageCLASS MF272dw, Canon imageCLASS MF273dw, and Canon imageCLASS MF275dw.
This compatibility ensures that you can enjoy the same level of print quality across different printer models.
Recycling and Sustainability:
A critical feature of both the Canon 071 and 071H is their recyclability. As genuine Canon toner cartridges, they can be appropriately recycled, contributing to environmental sustainability. Canon places significant emphasis on reducing the impact on the environment. And no matter which one you buy, you will be allowed to support their recycling initiatives.
Return Policy:
Another shared characteristic is the return policy. Both Canon 071 and 071H can be returned according to Canon's return guidelines. This provides peace of mind in case of any unforeseen issues or compatibility concerns.
Canon 071 vs 071H: The Different Traits

Sale Price:
One of the noticeable differences between the Canon 071 and 071H is the sale price. The Canon 071 is priced at $50.99, while the Canon 071H is priced at $83.99. The Canon 071H tends to have a slightly higher price compared to the Canon 071.
Suitable for Different Budgets:
Considering the price difference, the Canon 071H is a suitable option for those with a higher budget. And it is more prevalent among people willing to invest more for higher page yield.
While the Canon 071 offers a more affordable choice. And it is more friendly to customers who seek a cost-effective solution without compromising on quality.
Page Yield:
Another significant difference between the two cartridges is their page yield. The Canon 071 has a page yield of 1,200 pages, while the Canon 071H has a significantly higher page yield of 2,500 pages.
The Canon 071H generally offers a higher page yield than the Canon 071. This means that the 071H cartridge can print more pages before requiring replacement than the 071 cartridge. The specific page yields may vary, so it is advisable to check the product specifications for accurate information.
Replacement Frequency:
Page yield and replacement frequency are negatively correlated. Due to the variance in page yields, the replacement frequency of the cartridges may differ. With its higher page yield, the Canon 071H cartridge lasts longer and requires less frequent replacement than the Canon 071. This can be advantageous for individuals or businesses with high printing volumes, as it reduces the need for frequent cartridge changes.
If you have a high-volume printing requirement, the Canon 071H with its higher page yield may be a more suitable option because it can withstand more frequent use before replacement is necessary.
Conversely, for lower printing volumes, the Canon 071 can provide sufficient printing capacity. And it can print for you for a long time if you don't print a lot or print frequently.
Different Degrees of Environmental Friendliness:
Both Canon 071 and 071H are recyclable, which is good for the environment. However, the Canon 071H, with its higher page yield, offers a higher degree of environmental friendliness.
The longer usage lifespan of the Canon 071H toner cartridge translates to fewer replacements. As a result, cartridge waste overall would be less. Therefore, If environmental sustainability is a priority for you, opting for the Canon 071H can contribute to a greener printing approach.
Meet Different Printing Requirements:
Both the Canon 071 and Canon 071H cater to different printing requirements.
The Canon 071 toner cartridge is suitable for individuals or small businesses with moderate printing needs because its lower page yield and more affordable price make it a practical choice.
On the other hand, the Canon 071H is better suited for businesses or individuals with higher-volume printing requirements. And the reason why is that it has substantial page yield and longer-lasting performance.
Conclusion: Choosing the Right Option Between Canon 071 and 071H
Canon 071 vs 071H, which one should you buy? When deciding to buy Canon 071 or Canon 071H, consider your budget, page yield requirements, replacement frequency, and environmental preferences.
If you have a limited budget and moderate printing needs, the Canon 071 is a cost-effective choice. However, if you can afford the higher price and have high-volume printing requirements, the Canon 071H offers longer-lasting performance and cost efficiency in the long run.
What's more, the Canon 071H offers a higher page yield and is more environmentally friendly. Its features make it a better fit for high-volume printing requirements or those dedicated to sustainability efforts.
And the Canon 071 is a more budget-friendly option that suits moderate printing needs. Both options provide excellent print quality, support recycling initiatives, and can be returned as per Canon's policy.
By carefully assessing these factors, you can make an informed decision and select the toner cartridge that best aligns with your needs and priorities.


Regardless of your choice, both cartridges deliver exceptional print quality and support Canon's sustainability initiatives. However, when it comes to printer consumables such as toner cartridges, finding the right balance between cost and quality is essential. So if you are seeking more cost-effective ones, here comes the best choice. That's compatible with Canon 071 toner cartridges and Compatible 071H toner cartridges. They have advantages as follows:
Affordable Pricing:
One of the main advantages of opting for our compatible toner cartridges is available at YB Toner. com is their affordability. Compared to genuine Canon cartridges, the compatible versions are priced more competitively. And it makes them an excellent choice for budget-conscious individuals and businesses alike.
Cost Savings:
Our compatible Canon 071 and 071H toner cartridges offer affordable pricing, helping you save on printing costs. By choosing the compatible Canon 071 or 071H toner cartridges from ybtoner.com, you can significantly reduce your printing costs.
Comparable Print Quality:
While the compatible toner cartridges may come at a lower price, they don't compromise print quality. The compatible toner cartridges at ybtoner.com are designed to deliver sharp, crisp, and vibrant prints comparable to the original Canon cartridges.
Their professional-grade toner formulation ensures consistent results, whether you're printing text documents, graphics, or photos. These cartridges offer high-quality printing results at a fraction of the price of the original Canon cartridges.
Whether you have high printing volume or occasional printing needs, the cost savings can add up over time, without compromising on print quality.
Durable and High-Quality Materials:
At YB Toner, the compatible toner cartridges are built using durable and high-quality materials, ensuring their longevity and reliability. These cartridges are designed to meet or exceed the performance of the original Canon cartridges, providing consistent and reliable printing performance.
Environmentally Friendly:
Another noteworthy aspect of ybtoner.com's compatible toner cartridges is its commitment to environmental sustainability. These cartridges are manufactured using eco-friendly practices and materials, helping reduce waste and minimize the ecological footprint associated with printing.
Seamless Compatibility:
Our compatible Canon 071 and 071H toner cartridges are specifically designed to work flawlessly with Canon printers, ensuring a hassle-free printing experience. With seamless compatibility, you can easily install the cartridges into your printer without encountering any compatibility issues or error messages.
This ensures that you can start printing immediately, without any disruptions or delays. The cartridges from ybtoner.com undergo rigorous testing to ensure they meet the highest standards of compatibility, delivering reliable performance consistently.
Whether you have a home printer or a business-grade multifunction device, the seamless compatibility of these cartridges ensures that they integrate seamlessly with your printer's settings, providing optimal print quality and performance.
In conclusion, if you're looking for an affordable alternative to the original Canon 071 or 071H toner cartridges, ybtoner.com offers compatible options that deliver excellent print quality, cost savings, durability, and environmental responsibility.
Our compatible cartridges provide a seamless and reliable printing experience, making them a smart choice for individuals and businesses seeking to maximize their printing efficiency and minimize costs. Visit ybtoner.com to explore their range of compatible toner cartridges and enjoy the benefits they offer.