YB Toner Affiliate Program
About YB Toner
YB Toner is a top printer toner cartridge supplier in the US. We built long-term partnerships with top-tier manufacturers who have advanced production technology and process in the industry. This ensures that YB brand toner cartridges meet the highest standard of quality and reliability.

Our affiliate network, ShareASale.com is a trusted affiliate marketing platform that offers effective commission payment process and reliable 120-day tracking.

Join YB Toner Affiliate Program to earn cash easily!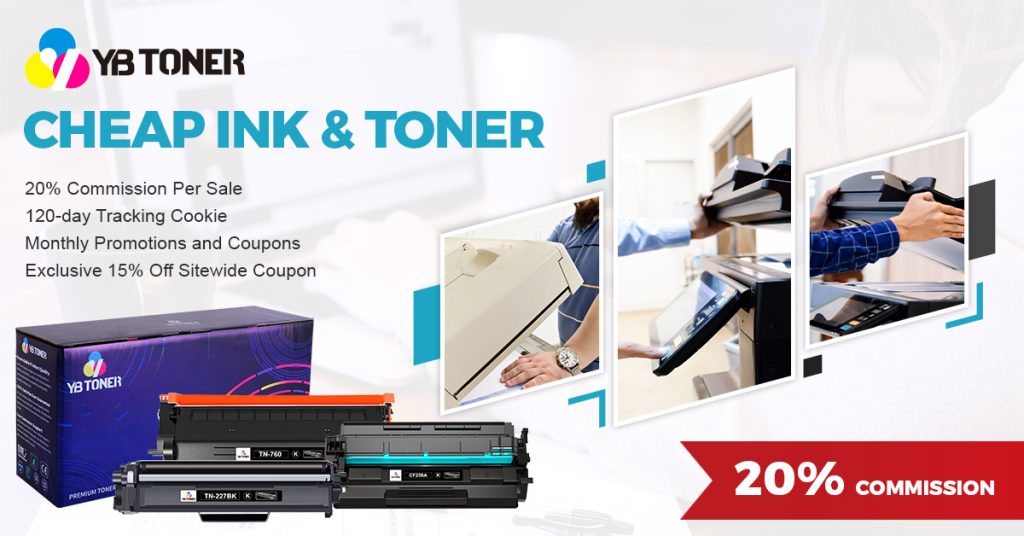 Benefits of YB Toner Affiliate Program
–20% commission per sale

-120-day tracking cookie

-Monthly promotions and coupons

-Exclusive 20% off sitewide coupon for customers who purchase YB products through our affiliates

-Strong desire to promote sales
YB Products and service
-High-quality toner cartridge replacements for HP, Brother, Canon, and other OEM brands

-Much lower prices than OEM brands

-High potential – printer is a necessary device for home or office. Most customers own at least one printer. And they reorder toner cartridges every 3 months.

-Free shipping and fast delivery – two warehouses in California and Pennsylvania. Free shipping on orders over $30 to the contiguous US.

-Considerate customer service – professionally trained customer service representatives

-100% satisfaction guarantee – 2-year warranty on all products. Quick and effective assistance. Free replacements or quick refund for defective products is available during the warranty period.
Step-by-step Process
1. If you do not have a ShareASale account, simply sign up on this page. Or directly sign in if you already have one.
2. You can retrieve referral links and banners from your account.
3. Post the referral links and banners on your website, chat room, newsletter, and anywhere on the Internet to attract potential customers.
4. Customers will be tracked by your chosen affiliate network if they visit our online store through your referral link or banners. And the system will be automatically notified if a purchase is complete in our store.
5. The affiliate network will then deduct our pre-deposited fund and send the commission to you.
6. You can view referral reports from your account freely.
Sign Up for Free
Click to go to the YB Toner Affiliate Program page. Contact us at [email protected] if you have any questions and we will give you quick and satisfactory answers.