Canon Color imageCLASS MF753Cdw Toner from $55.95
Canon Color imageCLASS MF753Cdw toner cartridges include Canon 069 and Canon 069H. Like all printers, your Canon MF753Cdw printer requires toner cartridges to produce high-quality prints. When it's time to replace your printer's toner cartridge, it's crucial to choose a compatible and high-quality replacement that delivers the same level of performance as the original toner. Buying YB-brand toner replacements is a good option. All toner cartridges can work well with the MF753Cdw printer, delivering good-quality print results at a low cost. Overall, our cheap and good-to-use Canon MF753Cdw toner cartridges are eagerly waiting for your use. No-hassle return policy also helps you shop these toner cartridges with confidence.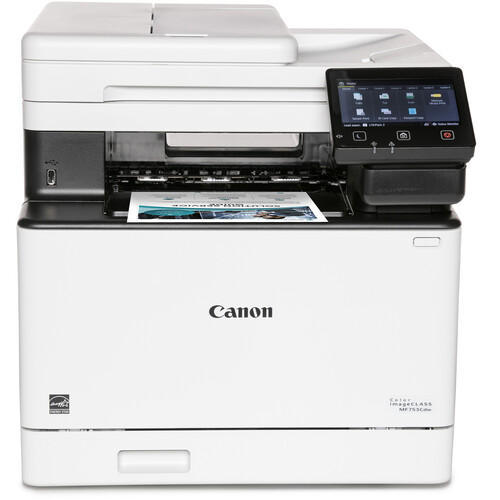 Why Choose Our Canon Color imageCLASS MF753Cdw Toner Replacements
Canon Color imageCLASS MF753Cdw Toner with Cost-Effectiveness
The Canon MF753Cdw toner cartridge is an excellent choice for printer users who want to save money without sacrificing quality. These Canon imageCLASS MF753Cdw cartridges are made from high-quality components and are rigorously tested to ensure they meet OEM standards. They are also easy to install and come with clear instructions, making it a hassle-free process.
Canon imageCLASS MF753Cdw Toner with Good Print Quality
Our compatible Canon imageCLASS MF753Cdw toner is known for its excellent print quality. It produces sharp, clear text and vibrant, accurate colors that make documents and images look professional and eye-catching. The toner's fine particle size and precise formulation ensure that every print is consistent, with no smudging or blurring. Whether you're printing a report for work or a photo for a scrapbook, Canon imageCLASS MF753Cdw toner delivers outstanding results every time, making it an ideal choice for anyone who values print quality.
Canon MF753Cdw Toner Replacements with Various Options
YB Toner offers standard-yield and high-yield version toners for Canon MF753Cdw at the same time. Multi-pack (4-pack) and single-pack (Canon 069 black/cyan/magenta/yellow and Canon 069H black/cyan/magenta/yellow) are also available in our store. Various options of Canon MF753Cdw toner cartridges can meet your different printing needs. If you print a lot of materials every day, choose a high-yield and multi-pack one (Canon 069H toner set). The lower cost per page of high-yield toner cartridge can help you save significantly in the long run.
Customer-Oriented After-Sale Service
We provide clear and reasonable warranty and return policies for all Canon color imageCLASS MF753Cdw toner cartridges purchased from YB. The 30-day money-back guarantee and 2-year product warranty can help you feel confident about your purchase. We offer a full refund or free new replacement against any toner cartridge's defects. So, your consumption is guaranteed in YB Toner. If you encounter any issues with the product or have any queries after the purchase, kindly ask us for help. Our experienced customer service staff will provide prompt and responsive customer support.
Frequently Asked Questions about Canon imageCLASS MF753Cdw Toner Cartridges
Canon 069 vs. Canon 069H, what's the difference between these two toner cartridges?
One thing to remember when purchasing toner cartridges is that there are two types of cartridges available: standard yield and high yield. The differences between Canon 069 and Canon 069H lie in the aspect of page yield and price. Standard-yield Canon imageCLASS MF753Cdw cartridges have a lower page yield than high-yield cartridges and are generally less expensive. When choosing between the two, it's important to consider your printing volume and budget. For example, if you print many black and color documents, it's better to buy a high-yield Canon 069H toner cartridge set that delivers a high page yield.
Will using your compatible Canon MF753Cdw toners void my printer warranty?
Using a compatible Canon MF753Cdw toner cartridge to print will not invalidate your printer warranty invalidated. The Magnuson-Moss Warranty Act empowers you to use third-party products without voiding warranties. It's illegal for the original equipment manufacturer to impose on their customers to only use OEM products in any form. For example, HP company had to pay compensation to printer users in 2020 because of HP's use of DRM to prevent third-party ink and toner from working in HP printers. So, it's your right to buy and use third-party Canon Color imageCLASS MF753Cdw toner cartridges.
How to install Canon MF753Cdw toner replacements?
Here are the general steps for installing toner replacements in your Canon MF753Cdw printer:
Turn off your Canon Color imageCLASS MF753Cdw printer and unplug it from the power source.
Open the printer cover to access the toner cartridge.
Hold the old used toner cartridge and gently pull it out of the printer.
Unpack the new MF753Cdw toner cartridge from its packaging.
Remove the protective tape or plastic from the new toner cartridge.
Gently shake the cartridge back and forth a few times to distribute the toner evenly inside the cartridge, ensuring the best possible print quality.
Insert the new Canon MF753Cdw toner cartridge into the printer in the same orientation as the old one was removed.
Push the toner cartridge firmly into place until you hear a click or feel it lock into place.
Close the printer cover. Plug in the printer and turn it on.
Print a test page to ensure the new toner cartridge is installed correctly and can print properly.
Note: It's strongly recommended to follow the attached manufacturer's instructions for installation and use.
What's the difference between original and compatible Canon Color imageCLASS MF753Cdw toner cartridges?
Original Canon Color imageCLASS MF753Cdw cartridges are produced by the printer manufacturer. Compatible MF753Cdw toner cartridges are manufactured by third-party companies, and they generally come in various brands. The compatible cartridges are often much cheaper than original Canon toner cartridges, but they offer the same page yield. As a result, compatible MF753Cdw toner cartridges have a lower cost per page than Canon cartridges. About the print quality, a good-quality compatible toner cartridge can also produce OEM-standard printing results. In conclusion, when choosing MF753Cdw toner replacements, it's important to consider factors such as page yield, print quality, and price. Compatible and genuine Canon cartridges both have their benefits and drawbacks. So, it's up to you to decide which option best meets your needs.