Canon imageCLASS MF445dw Toner Cartridge Replacements from $39.95
Canon imageCLASS MF445dw toner cartridge is also known as Canon cartridge 057 black and Canon 057H toner cartridge. Canon 057 is a standard yield toner cartridge of 3,100 pages, while Canon 057H is high yield black toner cartridge of 10,000 pages. On top of that, Canon laser MF445dw is a all-in-on printer with multiple functions, such as print, copy, fax and scan. Consequently, purchasing this printer can save you a lot of money and office space to place various printer devices.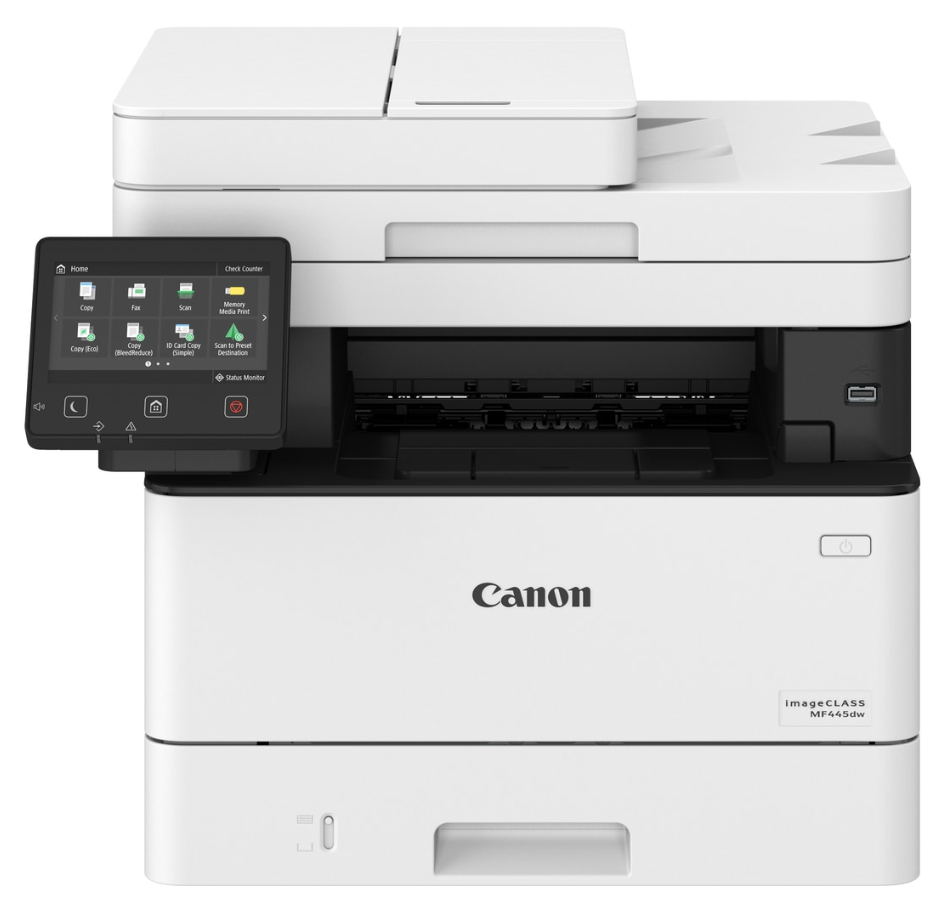 Canon imageCLASS MF445dw Toner Cartridge Replacement from YB Toner Official
1. Superior Quality with Low Cost
Different from the requirement for color toner cartridges, customers' requirement for monochrome toner MF445dw is clear text only. Compared with printing colorful pictures, legibility is the most basic and simplest requirement. Even though this is a basic requirement, many enterprises still produce a steady stream of products with inferior quality. It also makes many customers feel that the saying "cheap is not good" is right. However, our team of engineers worked day in and day out to design this cheap and easy-to-use toner Canon MF445dw. When you are replacing the firsthand cartridge with Canon imageCLASS MF445dw cartridge from YB Toner and printing a test page. You will find that the effect of our toner cartridge is no different from that of the original one. The compatibles of YB Toner are so cheap that you might as well give it a try.
2. Product Warranty of Two Years
Under the circumstance of full warranty, YB Toner guarantees to repair or replace the defective toner for Canon MF445dw within the warranty time, which is 24 months. Once the product is damaged or defective absent-mindedly, YB Toner also providing full warranty for every new or return client. But please pay attention that clients must replace the goods within the limited time. YB Toner is dedicated to provide extreme pleased after-sales experience for our distinguished clients. For it is our responsibility to safeguard your right as consumer and we will try our best to make you feel content with our products.
3. Satisfaction Guarantee of One Year
In a brick and mortar store, you can see the Canon MF445dw cartridges and try them out. But online shopping can only see the superficial surface of the product through pictures or videos. That's why many customers have to worry about problems with the products. So they choose to buy products in physical stores. YB Toner fully understand your concern and insecurity deep in the bottom of our hearts. Therefore, we have launched a one-year satisfaction guarantee. After you receive the products, if our products fail to meet your expectations, we will handle refund or exchange services for you.
4. Customer Support is on Standby
Overall, YB Toner has more than hundreds of service professionals who can provide support and availability service system integration as well as operation management in the United States. In addition, we have set up numerous communication channels, such as telephone, e-mail and online chat. If the line is busy when you call in, please wait a moment and our staff will call back as soon as possible. Otherwise you can choose email and online chat to help you, they can solve your problem with a light touch.
The Merits of Canon imageCLASS MF445dw Printer
1. Versatile Functions of Canon imageCLASS MF445dw Laser Printer
In the one hand, Canon imageCLASS MF445dw Laser Multifunction printer provide improved control of the printing environment so much the better for all the printing activities take place in the same network. And improve the confidentiality of the restricted documents of your firm. In the other hand, Canon imageCLASS MF445dw wireless black & white laser all-in-one printer integrate multiple functions into one device to provide a higher level of convenience for clerk office workers. You can use the same machine to scan the paper and print it out. Therefore, this will save you time operating two different machines. By the way, this printer is wireless and you can connect it to other equipment without electric cables. Moreover, it also allows you to print on your mobile device regardless of the location. Because you can easily connect to a multi-functional wireless printer and print through the identical network.
2. Space-Saving
Canon – imageCLASS MF445dw wireless black-and-white all-in-one laser printer requires less space than separate devices. This reduces clutter in the office because printers, copiers, scanners, and fax machines are not confined to one sector. Thus, it is good for arranging of the company, especially if you are trying to deal with space constraints.
3. User-Friendly Canon imageCLASS MF445dw Laser Printer
Officials only need to learn one interface to make the printer easy to use and improve efficiency. Canon printer MF445dw has an intuitive electronic touch panel and a simple device for navigation. Consumers can master a simple interface. And it can perform all printing, copying and scanning needs with only one operation. In this way, it improves the aggregate efficiency of the big corporations easily. Because employees spend less time operating the machine, they can spend their precious time on other significant things of the organization.
4. Cut Down Expenses
Canon imageCLASS MF445dw – all in one printer occupy less business resources comparing with machine with only printing function. As the firm is running fewer and fewer devices, it can lead to electricity saving. The multi-function printer can also reduce the overall cost of office supplies. Throughout its service life of paper, and MF445dw Canon toner cartridges. It means that enterprises will be able to follow the tracks of their printing costs without underestimating it. Besides, the firm can save money from machine maintenance. Because it is easier for maintenance personnel  to maintain single Canon MF445dw printer than various machines with different and complex internal structures.
5. Standardized Printing Process
Canon imageCLASS MF445dw multifunction laser printer helps organize your organization's printing infrastructure digitally and physically in one place. The benefits of Canon i-sensys MF445dw help increase productivity of the employees. And it also enables organizations to normalize document management processes as well as avoid unnecessary wasting of paper. In addition, it improves security and compliance when all files pass through the one and only center. Moreover, it can handle large volume of jobs, improving the convenience and saving time of document processing.