HP LaserJet MFP M140w Printer Review
HP LaserJet MFP M140w printer is of excellent performance and is the smallest laser printer in its class. Whether office or home users, both can use this printer to complete an easy printing. Furthermore, the HP LaserJet M140w is a multifunction black and white printer that enables one to print scan, and copy in one machine. It is an easy-to-use desk device for casual print jobs. It uses HP 141A black laserjet toner or HP 141X black laserjet toner cartridge to print. However, this black-white printer is a monochrome printer and can not deliver color outputs.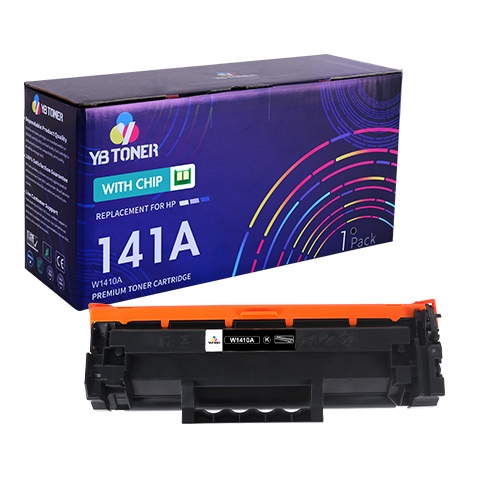 Compatible HP 141A Black Toner Cartridge (W1410A) – Standard Yield
High Print Quality
2-Year Product Warranty
30-Day Money Back Guarantee
Free & Same-Day Shipping
Super Low Price: $37.50
Compatible with HP LaserJet M110w, M140w printers
Body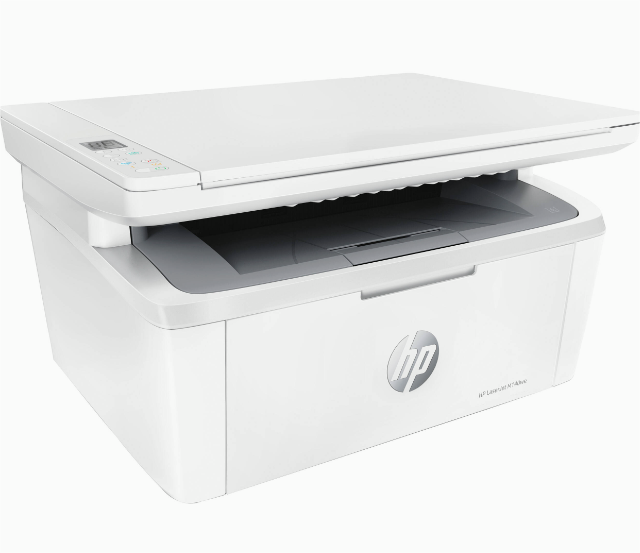 In appearance, HP LaserJet MFP M140w is compact. Unlike those big-size multi-function printers, this HP printer has a small body but enough functions to finish printing, scanning, and copying. It's 14.2 x 10.4 x 7.8 in WDH, and the maximum dimension is 14.2 x 16.8 x 13.7. So it is basically the size of a handle suitcase. The total weight of this small printer is 11.86 lb. That is nearly 5.4 kg. Very easy to move and does not occupy too much space. Indeed a compact and lightweight printer model. Since it is very light and small, you can buy it as a convenient office supply. This M140w printer has a 150-sheet input tray and a 100-sheet output bin to accomplish print scan and copy tasks. There is also a special extra tray on the output bin. It is mainly designed to hold the paper when it comes out from the output tray. In this case, paper won't drop on the ground and it is quite convenient to take it out.
Printer Functions
Print
Theoretically, this printer can print up to 21 ppm(page per minute). However, the exact print speeds may differ because of software applications, system configuration, drivers, and document types. Thus the actual print speeds are going to be various. And it is mainly compatible with black laserjet toner cartridges. Consequently, the printed pages are all black and white texts or images. When this machine is ready to print, it will produce the first black page as fast as 8.3 seconds. The resolution technology is HP FastRes 600, and the HP LaserJet MFP M140w printer can bring 600 x 600 dpi resolution. Moreover, we recommend users to print 100 to 1,000 pages a month by using this HP printer. Printing according to recommended page volume, you can protect the printer with regular printing. Otherwise, the over amount of printed pages may decrease the service life of your printer. In addition, the 140w printer includes the HP smart printing system. This tech supports you with efficient working and fast printing. But it requires an HP account and internet connection to make this printer function well. Therefore, you need to create a new HP account to continue printing on HP printers.
This machine can not print double-sided automatically, thus you need to manually turn over the paper. Since this printer is monochrome, it is not capable of color printing. To customers who need to print color images, this machine is not a good choice. On the contrary, if you often print black and white documents, then you can add this printer to your cart.
Scan
The scan flatbed size is 8.5 x 11.7 in and the scan resolution is up to 600 dpi in both hardware and optical. It supports both JPG, RAW (BMP), PNG, TIFF, and PDF file formats. Thus, customers can scan many kinds of documents and files and transfer them to different formats. Scanning via HP LaserJet Software Scan or TWAIN-compliant or WIA-compliant software is also a good way. This model accepts single or double scans in one pass. In addition, HP M140w can scan files directly to PDF and email them with preloaded business apps.
Like printing, auto-duplex scanning is also not available for this black-and-white printer. If you're going to do a lot of duplex scanning in a short amount of time, this printer isn't very good for the task. Because it requires users to flip the paper manually. In conclusion, the HP M140w printer is not suitable for high-volume double-sided printing at one time.
Copy
It is simple to copy both sides of ID cards onto one side of the paper. But the copy resolution is only 600 x 400 dpi in text and graphics. The copy speed is the same as print, which is up to 21 cpm. The maximum number of copies is up to 99 copies. Users can resize the copier from 25 to 400%. In this way, you can choose an M140w printer to finish your copying job. Furthermore, this black and white laser printer is a high-speed copier for busy work. Hence, it can help people accomplish copy tasks with reliable quality.
Security
Will this printer sell my personal information if I use it to copy or print? Does it store the private messages when I print? Some people may have these doubts and are afraid the printer will steal their information. Don't worry, this M140w printer includes the HP smart printing system. Using it to print scan and copy will not enclose your privacy. And HP's officials will strictly protect customers' privacy. By setting the personal account, it is safe to use the printer by one person.
HP Smart App Set Up
Many people want to know the detailed procedures about how to set up the HP smart app. Here is the instruction to show you the specific steps to work with your HP smart app. It is also very simple to connect this printer to the network.
Search HP smart on your app store, then download it to your phone
Add your first printer to the printer setup and press the "Get started" button
Then you can choose to connect the printer with WiFi or Ethernet Cable
Enter the password and connect the printer to WiFi
Press the "WiFi" button when the light is flashing on your HP printer(as the WiFi LED light is on, it means the printer has been successfully connected to the Internet)
Continue to complete language and country settings, sign in with an HP account
If you do not have an HP account, then create a new account
After all is set down, you can start to print
Using the HP smart app, printing from virtually anywhere is not a difficult thing. You can connect it to your M140w printer and ready to print at any time. That is to say, do not need to stand beside the printer to operate it, use mobile devices that can print.
M140w vs M29w vs M110we
These three printers are all from HP, there are similarities and differences. When you are confused about how to choose the right printer for your work, we are pleased to offer some advice for you.
Differences:
M29w is an HP LaserJet Pro series printer. In terms of print speeds, the M29w is slower than the M140w, it prints 19 pages per minute.
They use different toner cartridges. HP 48A is for HP LaserJet Pro M29w and HP 141A is for HP LaserJet MFP M140w.
M110we printer does not have an output tray.
More importantly, M110we only can print, it doesn't have other functions.
Want to know the difference between "w" and "we"? Check out our blog HP Printer Model Numbers Explained.
Similarities:
M140w and M29w both are monochrome black and white laser printers, they work with the black laserjet toner cartridge. And can not print in color.
They are all small desktop laser printers and are mostly used in offices or families.
Both M140w and 110we can print at the speed of 21ppm.
In a word, the HP M140w printer is the new version of the M29w printer. It is designed to work efficiently and bring higher quality prints for customers.
HP Instant Ink Program
HP Instant Ink program is ready for this HP M140w laser printer. HP Instant Ink is a special service that HP developed to encourage customers to buy more HP ink and toner cartridges. Customers need to subscribe to the HP instant ink plan with some money. While you run up with your ink, HP will send an HP instant ink to the customer. According to the months of instant ink you purchased, the pricing may vary. Nevertheless, this instant ink service can not be applied all over the world, it only works in some countries. On the other way, if you do not need the instant ink, cancel it as soon as possible.
However, once you cancel the program, the ink or toner will stop printing, and they will no longer be usable.
Consumables
HP LaserJet MFP M140w is a black & white printer, so it only uses HP black laserjet 141A and HP 141X toner cartridge. However, the high price of original ink and toner cartridges will cost you a lot on printing. With the same performance and quality, why not pick compatible cartridges? And you can rest assured that buying an HP LaserJet MFP M140w toner at YB Toner does not void your warranty. In fact, using a high-quality laser toner can help to maintain the shelf life of laser printers.
On the other hand, store pricing may vary from manufacturers or sellers. The price of the original toner is always higher than compatible toners. And among compatible brands, the prices of ink toner are also different. However, at YB Toner, you can buy high-quality toner replacements at a satisfactory price. For example, the HP 58X and HP 414X toner set produce the same page yield as the genuine. Luckily, you only need to pay almost half less money. More importantly, we provide 30-day free return and exchange after-sale services for customers.
Overview
HP LaserJet MFP M140w is one of the latest HP home printers. This well-produced printer is the world's smallest multifunction laser printer in its class. Though it does not have as many functions as some large printers, it is sufficient for daily use. What's more, it's relatively small. Very suitable for casual print jobs at home or small office. This laser printer is capable of delivering legible black-and-white documents. And the printed pages can be stored in a great situation for a long time. Besides, the entire printing process will not be too noisy and will not generate excessive dust pollution. You can work in a healthy and comfortable environment all the time. In conclusion, if you are looking for the newest home printer with a compact size, the HP LaserJet MFP M140w is a good buy. If you are looking for a best-saving home printer, we don't recommend this machine. See our recommendation in our blog Best Printer for Home Use with Cheap Ink in 2023.
Within 30 days of shipment, HP's official website accepts returns and exchanges. And the printer warranty is limited to two years. If you'd like to know more details please check out HP's official website.