HP OfficeJet Pro 6970 Ink Replacement
We supply you with 4 packs of compatible HP 6970 inks (black cyan magenta yellow). For only an affordable price, our high yield ink cartridges enable you to get high-quality printing effects. They are great for home, bank, school, government, and other scenes.
They are simple to install and use, providing you with clear text and vibrant graphics. We adopt the latest version of the chip. It facilitates your inkjet printer to recognize it intelligently for the first time. In addition, compatible HP 6970 ink is available for a wide range of other printer models. We are confident to say that the quality of our HP OfficeJet Pro 6970 ink replacement is up to the level of the original ink for HP 6970. Our logistics service is also very fast. If your order covers a certain amount, you will enjoy free shipping.
Finally, for your peace of mind when shopping in our store, we offer you a 100 satisfaction guarantee. If you have any problems with your product, please feel free to contact us and we will provide you with the best solution.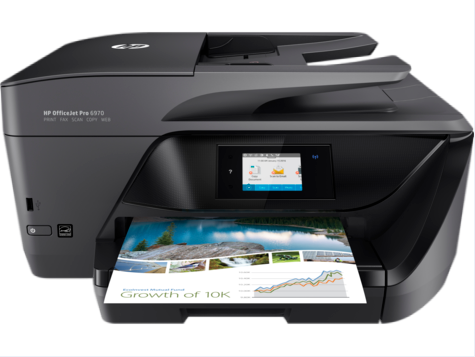 Why HP OfficeJet Pro 6970 Ink Replacement Is Getting Attention?
Excellent Cost Performance of Compatible HP 6970 Ink
If you are searching for ink for HP 6970 cartridges, I believe our compatible products will become your reliable choice. All compatible  printer ink cartridges are produced under strict quality standards by using an advanced manufacturing process. We focus on product details and each product undergoes multiple quality tests. Ink HP 6970 replacement is easy to install and use. It provides high-quality prints and makes you get clear text and vivid graphics. Besides, it has a page yield of 825 pages on 5% coverage (letter/A4), with the same standard output as the original HP.
Through comparison, we can find that our compatible HP OfficeJet 6970 inks have the same quality but at a lower price. They are nice replacement ink cartridges for the original HP cartridges. We suggest you purchase this combo pack to help you save money.
Moreover, our products perform more consistently than other non-original HP ink 6970 such as LD brand compatible inks. There are less ink leakage, reduced page yield, reduced print quality, and print mess.
Wide Range of Models Available for Compatible Ink HP 6970
HP 6970 ink replacement has the latest version of the chip to help you intelligently identify the printer. This ensures that your printer ink works efficiently. There is no doubt that HP 902XL (i.e. ink HP 6970 cartridge) is suitable for the HP OfficeJet Pro 6970 printers. Not only that, but it is also compatible with the following printer models as well: HP OfficeJet Pro 6960 6961 6963 6964 6965 6966 6968 6971 6974 6975 6978 6979 Printer; HP OfficeJet 6950 6951 6954 6956 6958 Printer.
Want more compatible products? Please visit the YB Toner.
Thoughtful Service About HP 6970 Ink Replacement
YB has a determination to provide customers with cost-effective printing consumables. We always strive to meet your print needs. Since our establishment in 2012, we have been committed to improving services. To give you the best customer experience, we have partnered with highly reputable FedEx and USPS. If your order reaches $30, you have free shipping.
Many customers are concerned about their printers being damaged when purchasing compatible products. Buying our HP 6970 ink replacement will not void their printer warranty. Shop with confidence as we offer a lifetime guarantee on all of our products. All products you purchase from our shop are covered by a two-year warranty. During this period, if you are not satisfied with your product or have any questions, please do let us know. Our service team will provide you with the optimal solution.
FAQs of Compatible Ink for HP 6970
What is the difference between HP 902 and HP 902XL inkjet cartridges?
Both HP 902 and HP 902XL compatible inkjet cartridges are suitable for HP OfficeJet Pro 6970 printers. The main difference is that the HP 902XL ink cartridge prints 2-3 times more pages than HP 902 ink cartridge. Therefore, we recommend you buy HP 902XL ink cartridges.
What are the differences between ink cartridges and toner cartridges?
Printer ink cartridges are suitable for inkjet printers and toner cartridges are suitable for laser printers. If you own an inkjet printer, you need to buy inkjet cartridges. In addition, they are also very different in price, page yield, design, working principle, etc. When purchasing compatible ink and toner, you should choose appropriate printing consumables for your printer type.
If you want to find other compatible ink and toners, please visit the HP collection page.