Brother HL-L9410CDN Toner Cartridge Replacement
Does your Brother printer show "Low Toner" message in the panel? If so, it's time for you to buy a new Brother HL-L9410CDN toner cartridge to replace the old one. YB Toner offers premium generic Brother TN810 toner for Brother HL-L9410CDN at a very low price. This toner cartridge comes with high-level performance, advanced security, and seamless compatibility. Plus, you can also get bold color output when using our generic toner cartridge to print. Not confident enough to buy yet? In addition to the 2-year product warranty, we also offer an extra 30-day money-back guarantee, which provides you with a zero-risk purchase.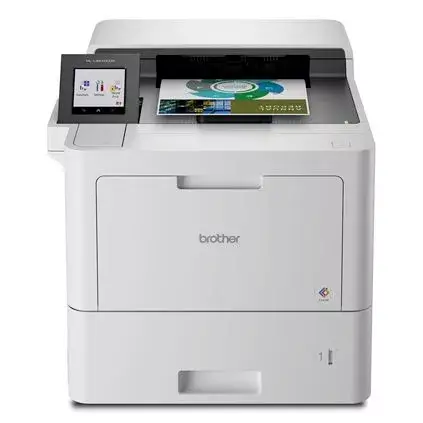 Why Choose Our Brother HL-L9410CDN Toner Replacements?
Unbeatable low Price and Print Cost
The price difference between our compatible toner cartridges and genuine Brother toner cartridges is huge. For example, our Brother HL-L9410CDN cartridge, like Brother TN810BK black toner cartridge, only cost 1/3 of the original Brother cartridge. This means that you can cut your printing costs by 3 times in one fell swoop by using our toner cartridge. For you, there will be no more high printing costs. And you can enjoy printing without any burden.
Highly Compatible with HL-L9410CDN
We have a professional and strict compatibility testing system and the testing error rate will not exceed 5%. Only the toner cartridge that has passed compatibility testing is eligible for sale. Our Brother HL-L9410CDN toner cartridges are no exception. They have been tested for many times to ensure their compatibility in the factory. So, with credible compatibility, our toner cartridges can perfectly fit this Brother HL-L9410CDN printer. And they can run quietly and smoothly with the printer to print what you want.
Exceptional Print Quality
Some inferior toner cartridges will produce terrible printing results which cannot be used on the formal occasion. To ensure that you can get excellent printouts every time, you need a high quality toner cartridge. For this, our premium HL-L9410CDN toner replacements can be your choice. Containing top-notch toner powder, our Brother HL-L9410CDN cartridge will continuously produce high-definition and rich-color printouts. The print quality is nearly comparable with the Brother genuine toner cartridge.
Favorable After-sale Policy for Customers
According to our Refund and Return Policy, every customer is entitled to both a 30-day money-back guarantee and a 2-year product warranty. With a 30-day money-back guarantee, you are eligible for a refund for whatever reason within 30 days. And, with a 2-year product warranty, you are eligible for a refund or a new replacement for the ink or toner cartridge with quality problems. YB Toner will not let you lose a penny.
Frequently Asked Questions about Brother HL-L9410CDN Printer Cartridge
When will the toner for the Brother HL-L9410CDN printer be in stock?
The research and development of the Brother HL-L9410CDN printer cartridge are in the final stage. And after the toner cartridge is produced, we will run print tests on the toner cartridge for one to two months
What are the page yields of Brother HL-L9410CDN toner cartridges?
The page yield estimates of Brother HL-L9410CDN toner cartridges are based on printing at a standard coverage of 5% per page. According to the page yield printing test results, TN810BK black toner cartridges can yield up to 9,000 pages. While each of the color toner cartridges (TN810C/M/Y) has a page yield of up to 6,500 pages. But, please note that the actual page yield varies depending on factors, like the toner coverage of each page, or the type of document being printed.
How to deal with the old genuine HL-L9410CDN toner cartridges?
When replacing old Brother HL-L9410CDN toners, you may consider how to dispose of them properly. Here are some tips you can take to deal with the old toner cartridge.
Participate in Brother Recycling programs: Most Brand-name manufacturers, including Brother, have recycling programs for used toner cartridges. Usually, they will offer you a free return label to let you send the toner cartridge back to their company. So, you can check the Brother recycling program website, and follow the instruction for sending the cartridge for recycling. (Note that the Brother toner cartridge recycling program is only available for customers in the United States. )
Use a recycling service: Many recycling services will accept toner cartridges. Check with your local recycling center, office supply stores, or electronics retailers to see if they accept used toner cartridges. Many of these locations have recycling programs and bins specifically for toner cartridges.
Will using your third-party toner cartridge cause damage to my Brother HL-L9410CDN printer and invalidate its warranty?
Using third-party toner cartridges with your Brother HL-L9410CDN printer will not cause damage to your printer and not make your printer warranty get invalid. But, when you choose a non-genuine Brother toner cartridge, please ensure that they are manufactured by a reputable supplier, like YB Toner.