Brother MFC-L9610CDN Toner Cartridge Replacement
Experience high-quality printing without breaking the bank with our compatible Brother MFC-L9610CDN toner cartridge replacements. We provide you with the compatible Brother TN810 toner cartridge set and TN810BK/C/M/Y toner cartridge replacement. All these laser printer cartridges produce sharp and vibrant prints at fast print speeds. They are ideal for mid to large-sized workgroups seeking the best solution. In addition, our price is more reasonable, far lower than OEM. We also offer free shipping on orders over $30, ensuring you receive your cartridge quickly and at no extra cost. Shop today and start enjoying the most cost-effective products. 100% SATISFACTION GUARANTEE!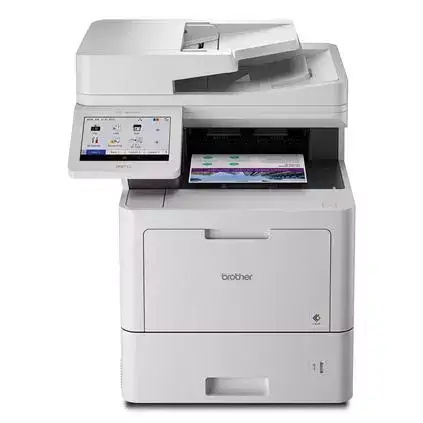 Why Choose Brother MFC-L9610CDN Toner Cartridge Replacement at YB Toner
Fabulous Print Quality
The compatible Brother MFC-L9610CDN toner cartridge delivers a truly fabulous print quality that exceeds expectations. With exceptional precision and clarity, it produces vibrant and richly saturated colors, ensuring every detail stands out. The prints boast sharp and crisp text, providing professional-looking documents and presentations. Its advanced technology guarantees smudge-free prints, making it perfect for high-quality business materials and creative projects alike. This compatible laser printer toner not only meets but surpasses the OEM standards, offering a cost-effective solution without compromising on excellence.
Lower Price & Cost Per Page
Brother MFC-L9610CDN toner cartridge replacement offers a lower price and an impressive cost per page. Compared to the original cartridge, it provides significant savings without compromising on quality. Using our compatible L9610CDN toner cartridge can help you save up to 49%. With this competitive pricing, businesses and individuals can reduce printing expenses while maintaining excellent performance. Affordable Brother MFC L9610CDN toner replacement is ideal for users looking for long-term savings.
Instantly Recognized
The compatible Brother MFC-L9610CDN toner cartridge is instantly recognized by the printer, ensuring hassle-free installation. Besides, this L9610CDN toner replacement is also compatible with the following printer models: Brother HL-L9410CDN, HL-L9430CDN, HL-L9470CDN, HL-EX470W, Brother MFC-EX670W, MFC-L9630CDN, MFC-L9670CDN.
Multiple Options
We offer compatible MFC-L9610CDN toner in 1-pack and 4-pack specifications for your selection. Need color toners? The 4-pack compatible Brother TN810 toner set is right for you. Just want to replace one toner? Compatible Brother TN810BK toner, TN810C toner, TN810M toner, and TN810Y toner are more suitable for you.
Free Shipping Over $30 & Fast Delivery
We have two conveniently located warehouses in the United States: California and Pennsylvania. Free shipping is available for orders over $30 to the contiguous U.S. So you can't miss these cartridges. We will ship your order on the same day if placed before 4:00 pm PST(CA) or 5:00 pm EST(PA). Thanks to lightning-fast shipping, it will be delivered to you within 1-3 days. We value your business and strive to give you the best service possible.
Supportive Customer Service
All products in our store come with always responsive customer service. We have a dedicated customer service team and technicians on hand to resolve any inquiries, concerns, or issues that may arise. With their timely and helpful assistance, consumers can depend on prompt responses and effective solutions. Whether it's troubleshooting, product information, or general assistance, we're committed to ensuring a positive and satisfying experience.
Frequently Asked Questions about Compatible Brother MFC-L9610CDN Toner Cartridge
1.When will Brother MFC L9610CDN toner replacement be in stock?
Following the release of the Brother MFC L9610CDN, a brand-new printer, we quickly started the development of compatible toner cartridges for it. This process will require a few months to complete. If you possess a strong interest in this product, we encourage you to subscribe to our store to receive the most up-to-date information.
2.What is the page yield of compatible Brother MFC L9610CDN toner?
Compatible Brother L9610CDN toner has the same page yield as OEM. The black toner has a page yield of 9,000 pages. And each color toner cartridge is capable of producing up to 6,500 pages. They're great for both personal and professional use.
3.Is it easy to install a compatible Brother L9610CDN toner cartridge?
Yes, installing a compatible toner cartridge for Brother L9610CDN is typically straightforward and user-friendly. Follow the steps below to install it.
First, open the cover of the printer and remove the old toner cartridge.
Second, take the new compatible toner cartridge out of the package and shake it gently from side to side to distribute the toner evenly.
Third, remove any protective covers or seals, being careful not to touch the drum.
Fourth, firmly insert the new cartridge into the printer until it locks into place.
Finally, close the printer's cover securely.
4.Are there any guarantees for your compatible L9610CDN printer toner?
Yes, we provide a 30-day money-back guarantee and a 2-year warranty for our compatible Brother L9610CDN printer toner.