Brother MFC-EX670W Toner Cartridge Replacement
Choose our compatible Brother MFC-EX670W toner cartridges and get professional printing at an unbeatable price! For Brother MFC EX670W printer users, we offer you a wide selection of TN810 toner cartridge replacements. It includes a 4-pack of compatible Brother TN810 toner set and four single-pack toner cartridges(TN810BK, TN810C, TN810M, TN810Y). All cartridges produce impressive images and crisp text at blazing-fast print speeds without error. Thanks to the smart chips, they work right out of the box. So you don't need to transfer the chip yourself. In addition, our prices are more affordable compared to the original price. We also back you with a 30-day money-back guarantee and a 2-year warranty! Just shop with confidence.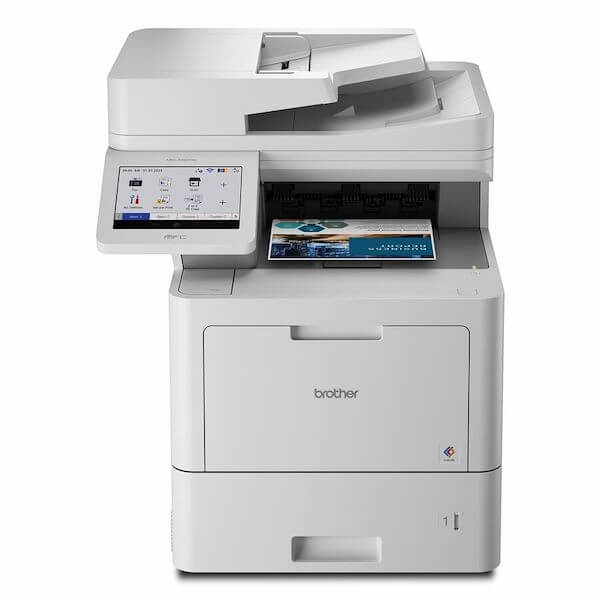 YB Toner's Brother MFC-EX670W Toner Cartridge Replacements Worth Buying
Budget-Friendly Price
Get more pages for less with this affordable Brother MFC-EX670W toner cartridge replacement. When you browse the price of genuine ones, you will find that our prices are much lower than the original. Using our compatible laser toner cartridges will help you save up to 49%. Discover amazing savings and seize the opportunity to shop now!
Marvelous Quality
These compatible Brother MFC-EX670W toner cartridges deliver exceptional quality with every print. They use high-quality toner that produces sharp, clear text and vibrant, true-to-life colors. Advanced toner technology and precise design ensure you get professional prints effortlessly. Whether you're printing out important documents or a few photos, the result will look amazing.
High compatibility
Our Brother MFC-EX670W toner cartridge replacements fit seamlessly into the Brother MFC-EX670W printer. Besides, they are also compatible with the following printers: Brother HL-L9410CDN, HL-L9430CDN, HL-L9470CDN, HL-EX470W, Brother MFC-L9610CDN, MFC-L9630CDN, and MFC-L9670CDN. Looking for other printer models? Click YB Toner to get more information.
Time-Saving Installation
Compatible Brother MFC-EX670W toner cartridges are very easy to install. Only need 1-2 minutes to complete the operation. Simply remove the old toner cartridge from your Brother printer and insert the new one in its place. No special tools or expertise are required, making it easy for anyone to keep their printer up and running smoothly.
Rapid Shipping
Enjoy free shipping to the contiguous U.S. for orders over $30, so you can't go wrong with these EX670W toner replacements. Plus, if you place your order before 4:00 pm PST (CA) or 5:00 pm EST (PA), we will ship the same day from our CA/PA warehouse. With the efficient shipping process, you can expect your order to arrive within 1-3 days.
Worry-Free After-Sales Service
If you ever have any questions or concerns about your cartridges, don't worry. The reliable customer service team is always ready and available to help. They are knowledgeable about the products and committed to ensuring your satisfaction with your purchase. Additionally, our worry-free after-sales service escorts you. We offer you a 30-day money-back guarantee. We also provide you with a 2-year product warranty. Feel free to reach us via live chat, email, or phone.
Frequently Asked Questions about Compatible Brother MFC-EX670W Toner Cartridges
1.When will your Brother MFC EX670W replacement toner cartridge be in stock?
After Brother launched the Brother MFC EX670W, a new printer, we started to develop its compatible toner cartridges immediately. It will take several months. If you have a keen interest in this product, you can subscribe to our store to get the latest information.
2.What is the page yield of the Brother EX670W toner cartridge replacements?
Compatible Brother TN810BK/C/M/Y toner cartridges are known as Brother EX670W toner replacements. The compatible TN810BK black toner has a page yield of 9,000 pages at 5% coverage (Letter/A4). And each compatible TN810 color toner has a page yield of 6,500 pages at 5% coverage (Letter/A4). They are ideal for mid to large sized workgroups. Want to know more about page yield? Check the blog What Is Page Yield.
3.Will these compatible EX670W toner cartridges void my printer warranty?
No. Using compatible EX670W toner cartridges will not void your printer's warranty. The MAGNUSON-MOSS WARRANTY IMPROVEMENT ACT prohibits manufacturers from voiding a warranty simply because the consumer used a compatible product. So you can purchase with confidence.
4.How long is the shelf life of the compatible Brother EX670W toner cartridge?
The shelf life of Brother MFC EX670W toner cartridge replacement is about 24-36 months. We recommend not opening the package until ready to use. To maintain its quality, it should be stored in a cool, dry place out of direct sunlight.
5.Will you sell my personal information if I buy products in your store?
Your personal information will only be used for order processing. Rest assured, we will not disclose any of your information for any reason.