HP OfficeJet Pro 6978 Ink Cartridge Replacements
YB provides an unbeatable HP 902XL ink 4 Pack replaces HP OfficeJet Pro 6978 ink cartridges. This compatible ink pack features outstanding performance, excellent compatibility, and a friendly price. It is available with 4 high yield printer inks, namely black cyan magenta yellow inks, which can give you great savings! They're very suitable for family, school, bank, company, and other scenes. Strict quality testing ensures that each HP 6978 ink replacement fits with your inkjet printer for purposes of demonstrating compatibility. They also have an easy installation. You can get amazing printing with it. What's more, rest assured that we offer a 100% satisfaction guarantee on your purchase. We promise compatible 6978 HP inks will not damage your printer but your warranty will remain valid. In addition, If your order hits a certain amount, you'll get free shipping! Our compatible HP OfficeJet 6978 ink is an excellent alternative to the original HP ink for HP OfficeJet Pro 6978.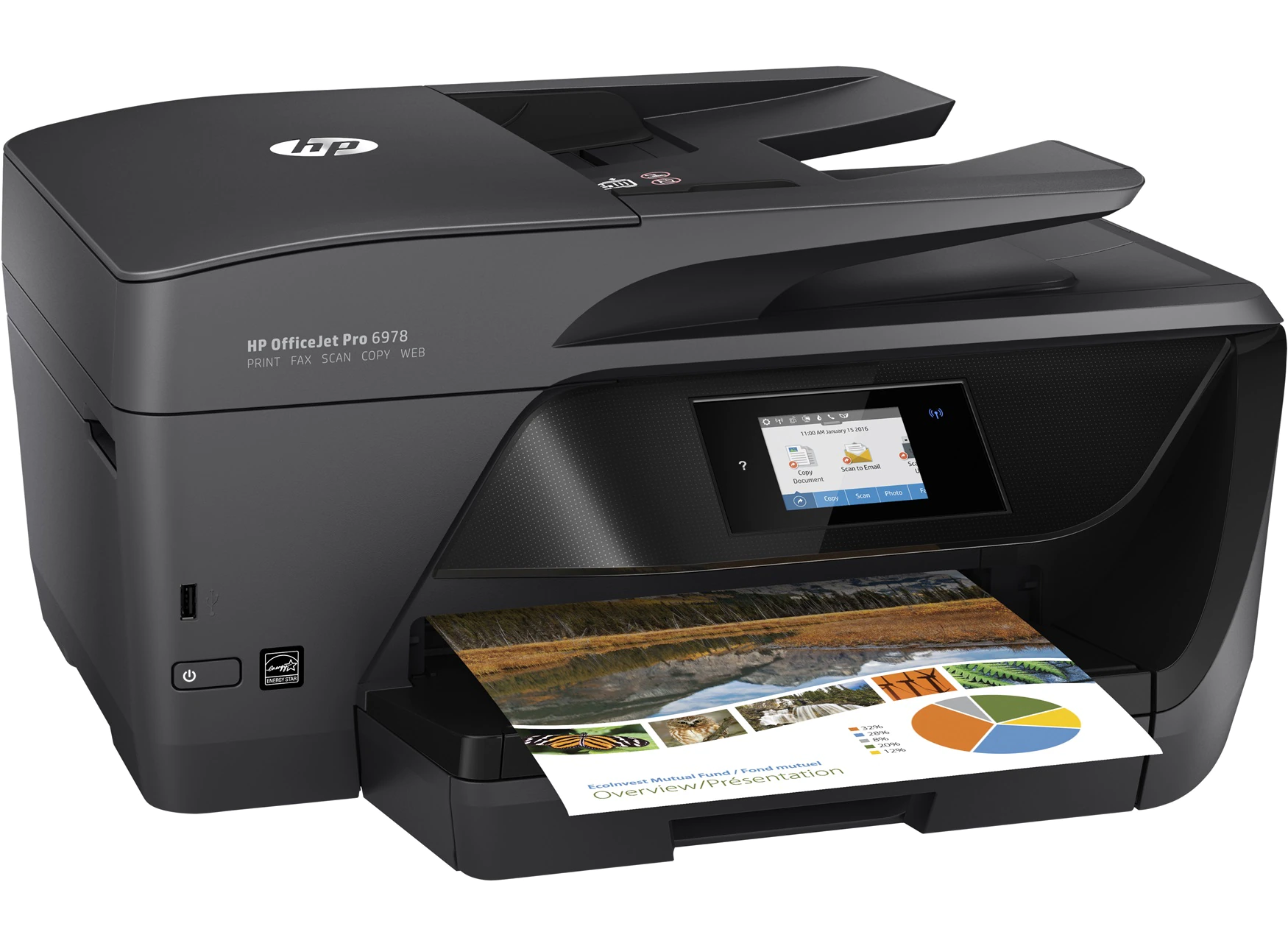 Compatible HP OfficeJet Pro 6978 Ink Is Well Worth Purchasing
Superior Performance of HP 6978 Ink Cartridge Replacements
All YB compatible products are produced under strict quality standards using advanced manufacturing processes. We focus on product details and each product undergoes multiple quality tests. High yield HP OfficeJet Pro 6978 ink replacement is easy to set up and use. It offers brilliant print quality and professional print speed. it also has a page yield of 825 pages on 5% coverage (letter/A4), which is the same as the original. And it can print not only crisp black text but also vibrant color graphics. Compatible 6978 HP ink cartridges remain quiet during normal printer operation and do not make any banging noise.
Moreover, our HP ink OfficeJet Pro 6978 replacement performs more consistently than other non-original compatible HP cartridges such as LD brand ink cartridges. There is a lower possibility of ink leakage, reduced page yield, reduced print quality, and print mess. It can be said that our compatible HP 6978 ink cartridges can perfectly substitute for genuine HP cartridges.
Affordable Price of Compatible HP OfficeJet 6978 Ink
If you are searching for HP OfficeJet Pro 6978 ink, we believe our products will become your reliable choice. With the same quality, our compatible HP ink OfficeJet Pro 6978's price is also very competitive. We have a lower price compared to the genuine one. Buying our products will save you up to 50%. We also offer promotional prices on some products during holidays.
Besides, we provide exclusive discounts for bulk purchases. If you need a lot of high yield cartridges, please email us at [email protected] or contact us at (844) 538-3312.
6978 HP Ink Compatible with A Wide Range of Models
With the latest upgrade chip, our HP OfficeJet Pro 6978 ink replacements are highly compatible with the latest printer firmware. So your HP OfficeJet Pro 6978 printer will recognize them without any error. This ensures that your printer works efficiently. Not only that, but it is also compatible with the following printer models as well: HP OfficeJet 6950 6951 6954 6956 6958; HP OfficeJet Pro 6960 6961 6963 6964 6965 6966 6968 6970 6971 6974 6975 6978 6979 Printer.
By the way, we also have other HP ink cartridge replacements for sale in our store.
Considerate Service about HP OfficeJet 6978 Ink Replacement
To satisfy customers' printing demands, YB makes every effort to offer cost-effective printing supplies. Since our foundation in 2012, we have been working to further improve our services. We cooperate with FedEx and USPS to give you the best service attainable. We also ship for free for orders over a certain amount. There is free shipping on orders over $30 to the contiguous US. Additional shipping fees may apply for orders to HI, AK, PR, or other areas.
Moreover, all products you purchase are subject to a two-year warranty. We offer the reliability of a lifetime guarantee for our compatible HP OfficeJet Pro 6978 ink. Please do not hesitate to contact us, depending on the circumstance, we will provide technical support, a refund, or a free exchange. You will hear back from us immediately.
Frequently Asked Questions of Ink Replacement for HP OfficeJet Pro 6978
What is the difference between HP 902 and HP 902XL Ink Cartridges?
HP 902 and HP 902XL ink cartridges are both compatible with the HP OfficeJet Pro 6978 printer. Among many factors, page yield is their biggest difference. The HP 902 is a standard yield cartridge that can print from 300 pages to 315 pages (black: 300 pages, color: 315 pages). But HP 902XL is a high yield HP cartridge, all cartridges can print 825 pages. HP 902XL ink cartridge prints 2-3 times more pages than HP 902 ink cartridge. Therefore, we recommend you buy HP 902XL ink cartridges.
What is the difference between ink cartridges and toner cartridges?
A toner cartridge works with a laser printer, whereas an ink cartridge is ideal for an inkjet printer. If you have an inkjet printer, you will need to buy an ink cartridge, such as HP 6978 ink. They also vary widely in terms of their price, page yield, design, operating system, etc. You should select the right printing supplies for your printer type when deciding to buy compatible ink and toner.
If you are looking for other ink and toners, please visit YB Toner.
Will I receive a "Non-HP Chip Detected Override" error message?
No. Our compatible HP OfficeJet Pro 6978 ink cartridges are equipped with upgraded IC chips. So you will not get an error message when using them.
The "Non-HP Chip Detected" error message is generally drawn on by firmware updates for the HP printer. When the firmware is updated, it will detect whether ink cartridges used in the HP printer contain an original HP chip. The printer will show this error message and reject the cartridge if this cartridge chip is not an authentic HP chip.
If you get this error message when using 3rd party ink cartridges, you can fix it by using compatible HP cartridges with new chips, downgrading printer firmware, or disabling HP automatic updates.
For more details, please refer to our blog Non-HP Chip Detected Override.
If I buy 6978 HP ink replacement from your store, will you sell my personal information?
No, we are a supplier of ink and toner in California. We comply with local terms conditions of personal information laws and we do not sell your personal information for any purpose. The personal information we collect from you will only be used to process your order. If you are required to provide personal information for any other reason, we will make sure that we have your explicit consent to use it.
Does using compatible HP OfficeJet Pro 6978 ink cartridges void my printer warranty?
It does not! The MAGNUSON-MOSS WARRANTY IMPROVEMENT ACT protects your legal rights. Using compatible products will not affect your printer warranty unless a fault or damage is caused by it. We also provide a lifetime guarantee for all of our HP inks, just shop with confidence!