Non-HP Chip Detected Fix – November 2023 Update
What's Non-HP Chip Detected?
Non-HP Chip Detected is an error message displayed on the HP printer screen. When you receive this message, you must be using 3rd party ink cartridges or toner cartridges. The compatible cartridges have already been blocked by printer firmware. So they stopped working with your printer. Recently, many printer users received this error message when using compatible HP 902XL/952XL/910XL/962XL ink cartridges and HP 58A/58X, HP 148A/148X, HP 206A/206X, HP 215A, HP 414A/414X, HP 141A/141X, HP 138A/138X, HP 210A/210X toner cartridges.

Why Does HP Printer Say Non-HP Chip Detected?
In most cases, the Non-HP Chip Detected error message was caused by HP printer firmware updates. Most 3rd-party cartridges were no longer compatible with the updated printer firmware. Therefore, when you install 3rd-party cartridges with non-HP chips, your printer might reject them and display Non-HP Chip Detected error message.
The printer firmware is a system that drives the printer to run normally and provides an interactive interface for customers (similar to the Windows system in an HP Envy computer). It plays a vital role in the operation and use of the printer. The original HP will update the printer firmware from time to time. We have received a lot of feedback about Non-HP Chip Detected from customers. Since 2022, the genuine HP has repeatedly pushed new firmware to printer users through WiFi or PC-side networking to upgrade printers. The upgrade is very common in our daily life, such as mobile phone/computer system upgrade, software upgrade and so on. Therefore, under normal circumstances, printer users tend to accept firmware updates without thinking too much when receiving such an upgrade prompt.
Generally speaking, the purpose of firmware updates is to fix the bugs in the firmware of the previous version of the printer, improve the protection settings, or optimize/add the functions of the printer. However, at the same time, the OEM will also restrict the use of third-party ink and toner cartridges through new firmware. After the printer firmware update, the new firmware will detect whether the toner cartridge or ink tank used in the printer carries the original HP chips through Dynamic Security Measures. If the cartridge chips are not original HP chips, the printer will display a Non-HP Chip Detected error message and disable the HP-compatible toner cartridges.
HP printer firmware updates also cause "Supply Memory Error" or "Indicated Cartridges Blocked For Containing A Non-HP Chip". These two error messages always appear in HP laser printer models. See How To Fix Supply Memory Error.
Non-HP Chip Detected Fix Solutions

(1) Use Compatible Printer Cartridges with New Chips
After the original HP releases the firmware upgrade, 3rd-party manufacturers will quickly develop new chips to make their cartridges compatible with new printer firmware. Once cartridges with new chips are installed, the Non-HP Chip Detected error message will disappear. And you can continue to print and enjoy savings. Therefore, when your printer reports Non-HP Chip Detected, please contact your supplier for replacements with new chips. YB Toner is a trustworthy ink and toner cartridge supplier. If any cartridges from us are blocked by HP printer firmware update, we will send free replacements with new chips and cover the shipping fee. A refund option is also available if you don't want replacements.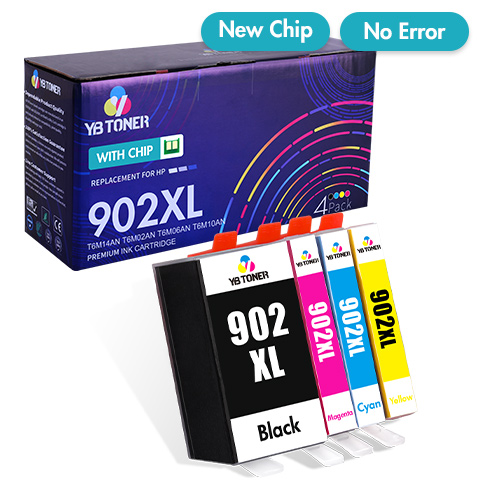 With Upgraded Chip & No Error
1-3 Days to the Contiguous U.S.
30-Day Money Back Guarantee
2-Year Product Warranty
Super Low Price: $29.95 (Use Code: YBHP10 to Get Extra 10% Discount When Placing an Order)
(2) Downgrade Printer Firmware
Downgrading the printer firmware is also a way to bypass Non HP Chip Detected. Printer Firmware Downgrade is to replace the new firmware with the old version. Thus 3rd-party cartridges can continue to work with the printer. This is a time-saving solution. No need to return and wait for replacements, just spend a few minutes downgrading the firmware version.
However, HP no longer offers downloads for old firmware versions from 2022. Only if you have the file of old firmware can you proceed with the downgrading. Thanks, we saved some old firmware for backup. If you don't have the file of old firmware, please check our blog HP Printer Firmware Downgrade Download. Or you can contact the supplier for a refund or exchange directly. We also suggest you download and save the latest firmware just in case you need it for downgrading in the future.
After you download the old printer firmware, you can follow the instructions to complete the downgrade.
(3) Use the Original HP Ink Cartridges or Toner Cartridges
If you connect with HP Support to find solutions, they will tell you that the only solution is to use original HP ink cartridges or toner cartridges. Indeed, using original HP cartridges is an effective way to bypass Non-HP Chip Detected. However, it means that your printing cost may double. So it's not a cost-effective way to fix the error.
(4) Disable the HP Automatic Updates
Disabling the HP automatic updates is a necessary way to prevent your 3rd-party cartridges from being blocked by future printer firmware updates. This is because the HP printer will automatically download the new firmware and proceed to update without your permission if the printer allows HP Automatic Updates. So you don't even know when the printer firmware is updated. Thus, we suggest you turn off the printer auto-update. After the auto-update is disabled, your printer will send you a prompt message if any updates are available. And the printer firmware will not be updated without your permission.
Note:

Disabling the HP Automatic Updates will not damage your printer. You can connect with HP support to update the printer firmware manually at any time you want .
Here Are Three Methods to Disable the HP Automatic Updates.
①By means of HP Smart
Step 1: Download the HP Smart App on your mobile phone
Step 2: Click Wi-Fi Direct to turn on the printer's wireless network
Step 3: Connect the printer after confirming the printer wireless network name and password
Step 4: Open your HP Smart App
Step 5: Click the Estimated Supply Levels to enter the main menu.
Step 6: Click the following prompts step by step: Advanced Settings → Security → Administrator Settings
Step 7: Slide the page to the bottom to find Printer Update
Step 8: Uncheck the marked boxes of Printer Update and then click Apply
②By means of IP Address
Step 1: Select Network on the printer operation panel
Step 2: Find the IP address displayed on the top page
Step 3: Searching this IP address on the browser
Step 4: Click Settings after entering the page
Step 5: Click Administrator Settings in the Security
Step 6: Slide the page to the bottom to disable Printer Update and then click Apply
③By means of Printer's Service Mode
Step 1: Press Return four times on the printer control panel to enter the Support Menu
Step 2: Press OK to enter into Support and then you can see the firmware version on the screen
Step 3: Find the Enable/Disable Menu and then the Firmware Update by pressing Up and Down
Step 4: Press OK to disable the Firmware Update
Please note that the ways to disable the HP Automatic Updates may differ from different printers. Take the HP Officejet pro 6960 color printer as an example. HP 902XL ink cartridges work with this machine. The following is a special way to disable the HP Automatic Updates of HP Officejet pro 6960:

Step 1: Faster access a personal dashboard on the printer touchscreen panel
Step 2: Click on the Setup icon
Step 3: Scroll down to select Printer Maintenance
Step 4: Click on the Update the Printer
Step 5: Select Printer Update Options
Step 6: Select Do Not Check
Step 7: Press No to disable the Automatic Updates
Note:

Compatible HP ink cartridges and toner cartridges provided by YB TONER contains the latest chips, so that you wouldn't receive Non HP Chip Detected error message when using our products. If you meet any other questions, feel free to call our customer service team at (844) 538-3312 or email to [email protected].
Printer Models That May Be Affected
The printer models listed below may receive the error message if you are using a compatible product.
YB Solutions for Non-HP Chip Detected Bypassing
(1) Provide Compatible Ink and Toner Cartridges with Latest Chips
YB Toner is an industry-leading toner cartridge supplier in the United States. We work closely with top manufacturers in product design, development, production, and upgrade. Once original printer manufacturers release new firmware, we will work with our manufacturers to supply cartridges with upgraded chips as soon as possible. And for old cartridges blocked by firmware updates, we will send free replacements or process refunds directly. So you can use our affordable and high-quality compatible ink toner cartridges with confidence.
(2) Provide a 100% Satisfaction Guarantee
YB Toner provides a 100% satisfaction guarantee for all customers. So if you encounter any problems before or after purchasing our products, please feel free to contact us. Your satisfaction is our constant goal. The warranty on our products is two years. Thus, if there is any problem in the operation of your purchased toner cartridge within these two years, we will provide you with tech support, free replacements, or a full refund unconditionally, depending on you.