HP Color LaserJet Pro M479fdw Toner Replacement
Where to find compatible HP Color LaserJet Pro M479fdw toner cartridges? YB gives you high quality replacement cartridges. And these compatible M479fdw toners are made of brand new materials and are perfect alternative to original HP toners. So it can minimize the damage to the printer. Besides, HP M479fdw toner has the same printing performance as original HP toner cartridges. We provide 100 satisfaction guarantee for the print quality of compatible LaserJet Pro MFP M479fdw toner. 414X/414A are the replacements of W2020 W2021 W2022 W2023. They both include black cyan magenta yellow four color toners. If you order one now, free shipping and 2-year warranty is also available!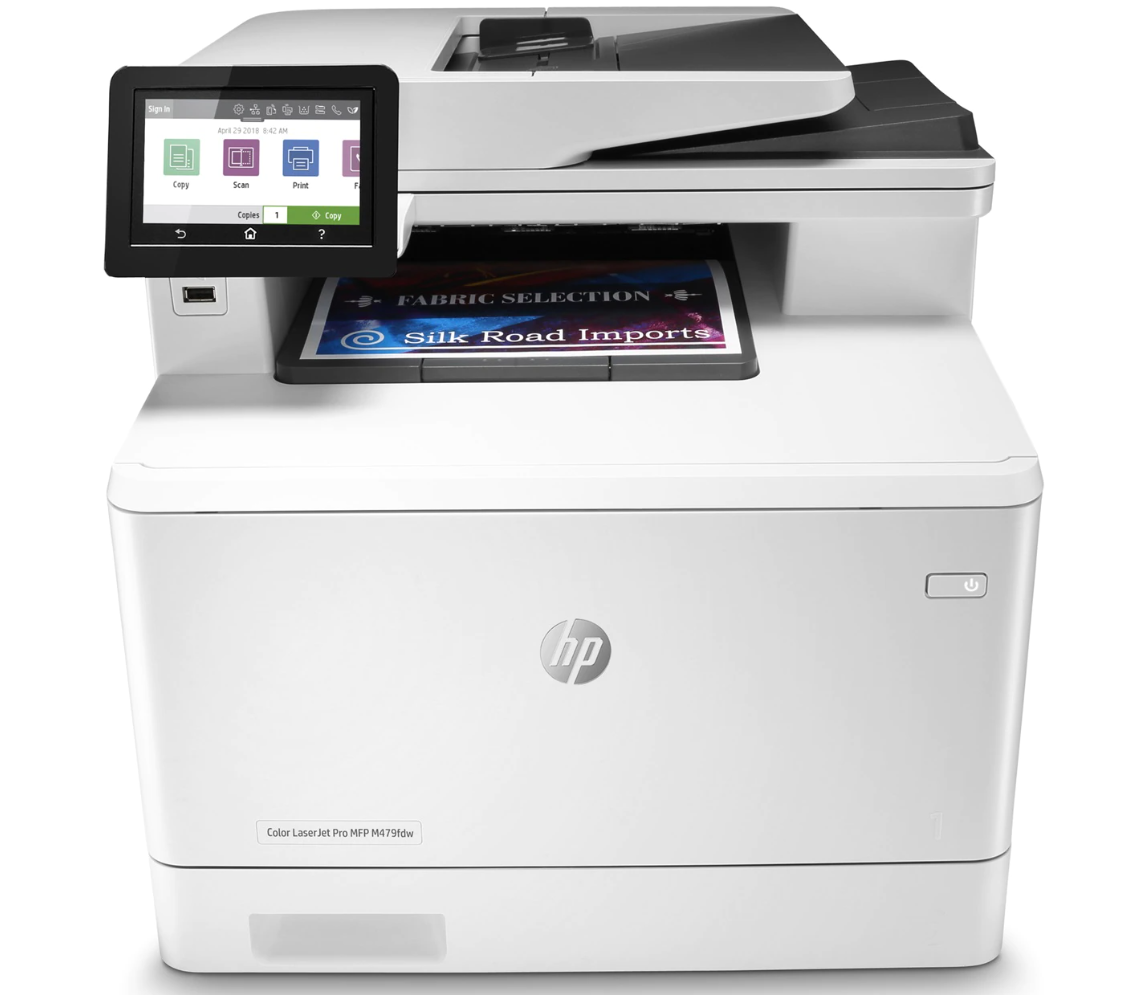 The Reasons You Should Buy M479fdw Toner at YB
HP Color LaserJet Pro MFP M479fdw toner applies to many printer models
We offer replacement cartridges for your HP Color LaserJet Pro MFP M479fdw. These toner cartridges aren't just for the M479fdw printer, though. They also work well with many other printers: HP Color LaserJet Pro MFP M479dw/HP Color LaserJet Pro MFP M479fdn/HP Color LaserJet Pro M454dn/HP Color LaserJet Pro M454dw/HP Color LaserJet Enterprise M455dn/HP Color LaserJet Enterprise MFP M480f. Because M479fdw toner has installed smart IC chips, it will smoothly work with your printers. Additionally, we will also offer no chip black and color toners for customers who want to save even more money. However, just because this toner cartridge without chip doesn't mean it's defective. You just need to replace the chip of the original toner cartridge (Check the blog "How to remove chip from HP toner cartridge" to acquire the instruction for chip removal operation), then it will work normally.
Variety of page yield options for HP LaserJet Pro M479fdw cartridges
Different customers have different demand for print volume, so we provide different page yield toner cartridges for customers to choose. If your monthly print volume is lower than 200 pages, standard yield LaserJet Pro MFP M479fdw toner is worth buying. For instance, W2020A black cartridge yields 2,400 pages, and other color cartridges print 2,100 pages. You can use them for a year without frequently changing. On the other hand, If your job requires a lot of printed documents, choose high yield toner replacement is better. Like the 414A, the 414X toner set also includes black cyan magenta yellow color cartridges. Unlike the 414A, HP 414X are high yield toners. In terms of a W2020X black cartridge yields up to 7,500 pages, each other color cartridge prints 6,000 pages. In conclusion, what kind of toner cartridge to buy depends entirely on your own needs.
HP Color LaserJet Pro MFP M479fdw toner with reliable quality
Our M479fdw toner cartridges are produced on a fully automatic production line, avoiding the defects that may be caused by manual production. In addition, the print quality of HP M479fdw toner also meets international quality standards and stand the test of customers. Moreover, we have been focusing on R&D and innovation, using environmentally friendly materials to make compatible ink toner. So you don't need to worry HP Color LaserJet Pro MFP M479fdw toner will cause pollution to the environment. As a laser printer, M479fdw can print 28 pages per minute. In a word, our toner cartridges deliver high quality prints with crisp text and bright colors without compromising print speed.
Attentive service for HP LaserJet Pro M479fdw cartridges buyers
HP M479fdw toner cartridges are available at our CA and PA warehouses. So continental American buyers will receive our package with 1-3 days. What's more, once you get it, you can have two-year 100 satisfaction guarantee. If there is any dissatisfaction with our products, you can communicate with us via phone or livechat, email. In addition, if you encounter any problems during the purchase process, our online customer service will also help you.
More questions to ask about M479fdw toner replacements
1. Do your compatible replacement cartridges include drum units in it?
Yes, compatible HP414X/HP414A toners have built-in drum units. Every time you buy new toner, the drum unit inside is also replaced. Therefore, it is not necessary to replace the drum individually. And the toner powder in the cartridge is transferred to the page through the drum unit, so printing cannot be done without the drum unit. Only by having them at the same time can a laser printer work properly. That is why our toner cartridges all have complete drums to provide the 100 satisfaction guarantee.
2. When do I need to replace my ink toner?
Generally, your printer will show a low toner warning when the ink toner is nearly running out. You can choose to replace it right now to ensure the print quality of your printer. Or if you do not chase the perfect prints, use it until the text starts to fade out is a good way to save more money. However, when your printed text is too light to read, you'd better replace the cartridge immediately.
3. How to install compatible HP M479fdw toner replacement on my laser printer?
With chips in it, our compatible toner is easy to install. For example, if you receive a black W2020X, you just need to follow below instructions to replace it with your original HP toner.
Step 1: Open up the cover of your printer and take out of the used cartridge
Step 2: Unpack your new toner from the package and take off the orange seal
Step 3: Shake your cartridge for 4-6 times to equal toner powder
Step 4: Install the replacement cartridge into your printer by the slide
Step 5: Close the printer cover and start printing
Note: When you install a whole set of black cyan magenta yellow toner, please put them in sequence. In case your printing results will be influenced.
4. What's the differences between HP Color LaserJet Pro MFP M479fdw ink and toner?
HP Color LaserJet Pro MFP M479fdw ink cartridge mainly uses liquid ink to print on papers. On the other hand, laser toners are made of dry toner powder. And also, toner powder is not like ink, it does not dry out quickly. Thus you can store it for a long time. Moreover, using an ink cartridge may cause the leakage of your ink. Except from that, their printing speed is different, too. Laserjet toner prints faster than inkjet cartridge.
5. How to extend the life of my replacement cartridges?
Normally, the lifespan of a toner is two-three years. Both humidity, temperature are the factors to influence the life of HP LaserJet Pro M479fdw cartridges. Meanwhile, the frequently usage of it will reduce its life, too. But it does not mean you should not use your ink toner. What is more, leaving the cartridge idle in the printer and not using it will also shorten its life. Switching to a skinnier font, avoiding printing images, and printing using draft mode can optimize your printing habits and get a high-cost performance product. If you place 414 replacement cartridges in a cool and clean environment, their shelf life might be prolong. In addition, remove it from the printer and gently rock it to re-distribute remain toner also can extend the lifespan of the toner. After a few shakes, reinstall it and try printing again, you might find you can print a few more pages.
6. Is your 414X/414A toner replacement reliable, will it void my printer warranty?
Using our compatible HP Color LaserJet Pro MFP M479fdw toner will not void your printer warranty. Furthermore, it is of high quality and does not cause any damage to your laser printer. You can use YB replacement cartridges at ease.