Canon Color imageCLASS MF656Cdw Review
The Canon Color imageCLASS MF656Cdw is a wireless all-in-one laser printer. If you are tired of inkjet printers, this is the one to consider. Easy to install and use, this latest Canon printer combines printing, copying, scanning, and faxing. It connects wirelessly to any mobile device, such as your phone, tablet, or computer, increasing your productivity. This Canon MF656Cdw printer is an excellent choice for home or small to medium office printing needs.
Ⅰ. Quick View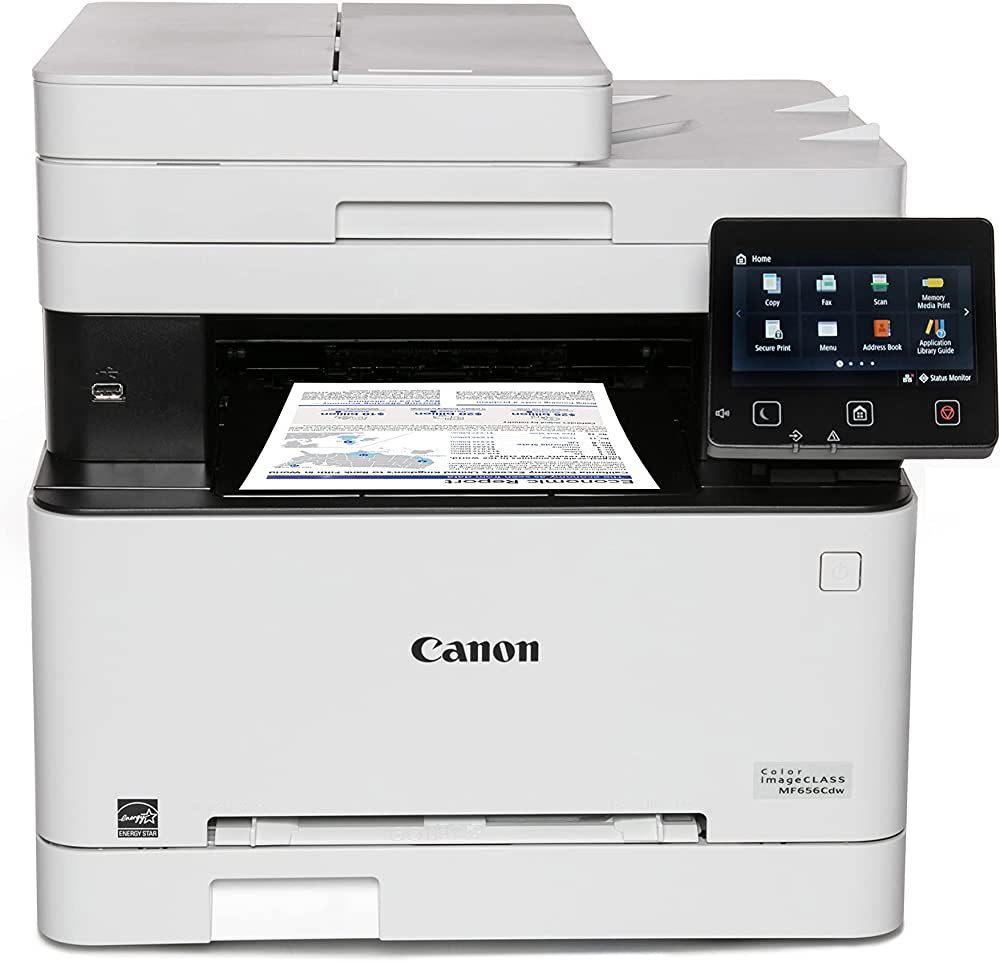 Pros:
All-in-One: print, copy, scan, and fax.
Fast print speed up to 22 ppm.
Wireless connection.
Security printing.
Simple setup with a friendly touchscreen.
Spacious paper capacity with the 250-sheet tray.
Multiple paper types and sizes supported.
Cons:
Too heavy & large body. Hard to move or transport.
Large print noise when printing.
Expensive original toner cartridges.
Ⅱ. Canon Color imageCLASS MF656Cdw Printer Appearance
The Canon Color imageCLASS MF656Cdw fits seamlessly into your workspace. It measures 16.3″H x 17.8″W x 18.2″D, making it perfect for the office or home. A clean white and black color scheme adds a touch of sophistication to its appearance, which goes well with your work environment. Plus, this printer weighs 48.5 pounds, requiring two people to move it safely. Transporting this laser printer can be challenging due to its dimensions and weight. Extra care and assistance may be required when operating in tight spaces or when going up and down stairs.
Ⅲ. Canon MF656Cdw Printer Exceeds Your Expectations
The Canon imageCLASS MF656Cdw printer does a great job. With its all-in-one performance and wireless connectivity, it's not just a printer, it's a productivity engine.
1. Duplex Printing
With print speeds of up to 22 pages per minute(22 ppm), the Canon MF656Cdw has your documents and images ready in no time. Plus, the superior resolution quality of 1200 x 1200 dpi ensures excellent clarity and readability, whether printing text or graphics. The printer also supports automatic 2-sided printing to reduce paper usage. No more manually flipping and reinserting pages, saving a lot of time.
2. Copy
Copying is a breeze with this Canon Color imageCLASS MF656Cdw printer. It efficiently copies documents and provides great versatility. The printer has color adjustments and can produce not only black and white copies but also color copies. In addition, it offers customization options such as resizing, copy density, and magnification, allowing users to tailor copies to their needs. All of this can be done on a user-friendly touchscreen.
3. Scan
Canon MF656Cdw supports scanning a wide range of document sizes and types, from standard letter-sized documents to legal documents and even smaller documents such as business cards. The printer's optical resolution of up to 600 x 600 dpi preserves the quality of your scanned document. You can scan it on the platen glass or feed it into the auto feeder. When you need to scan multiple pages, the 50-sheet automatic document feeder with double-sided capability helps simplify scanning tasks. You can also adjust Density and Sharpness for clearer scan quality.
4. Fax
Need to send or receive files and photos? The machine's fax function has you covered. This Canon – imageCLASS MF656Cdw printer is capable of sending and receiving documents and photos over a phone line. It can even send and receive faxes via the Internet. What's more, this machine also has a fax forwarding function, which can automatically forward received faxes to designated email addresses or network folders.
5. Wireless Connection
Say goodbye to cumbersome cables, you can flexibly place this machine in your office space. The Canon imageCLASS MF656Cdw printer offers seamless wireless connectivity options, enhancing its convenience in the modern office environment. It is compatible with Apple AirPrint, Canon PRINT Business, and Mopria Print Service applications. This feature simplifies the setup process and allows printing from any mobile device.
6. Security
The Secure Print feature of the Canon Color imageCLASS MF656Cdw printer improves the safety of printing documents. This function requires users to enter a unique PIN on the printer before publishing the printing operation to protect sensitive data.
Besides, the machine also supports Department ID management, which is specific to the department's ID and permissions. Therefore, administrators can set access to various functions based on different roles.
7. Other Highlights
User-friendly touchscreen
The printer has a 5-inch intuitive touchscreen interface, which can easily browse the settings and options. With clear icons and an easy-to-understand menu, it helps seamlessly print experience.
No need to replenish paper often
Canon MF656CDW provides the advantage of reducing paper replenishment frequency. This machine offers a 250 sheets paper tray that accommodates a large amount of paper. It minimizes the interruption of heavy printing tasks, thereby improving workflow efficiency.
Flexible paper types and sizes
This MF656Cdw printer accepts various paper sizes, including standard letters, legal, and envelopes, and meets different document requirements. Moreover, it supports different paper weights and textures, such as plain paper, labels, and coated paper. Users can create professional quality materials as needed.
Ⅳ. Toner Cartridges for Canon Color imageCLASS MF656Cdw Printer
Canon imageCLASS MF656Cdw printer is compatible with Canon 067 /067H toner cartridges, producing impressive pages. Standard-yield Canon 067 toner cartridge has a page yield of 1,250 to 1,350 Pages(BK: 1,350 Pages; CMY: 1,250 Pages each). And the high-yield Canon 067H toner cartridge has a page yield of 2,350 to 3,130 Pages(BK: 3,130 Pages; CMY: 2,350 Pages each). The standard version is more suitable for light printing users, and the high-yield version is the best choice for small and medium-sized enterprises that frequently print. For more information, please see our blog Canon 067 vs Canon 067H.
By the way, Canon genuine toner 067/067H is very expensive. A 4-pack of Canon 067 black/cyan/magenta/yellow toner will cost about $300. No worries, YB Toner offers you the compatible Canon 067 toner set for only $179.95. Same OEM print quality but at a lower price, 100% Satisfaction Guaranteed.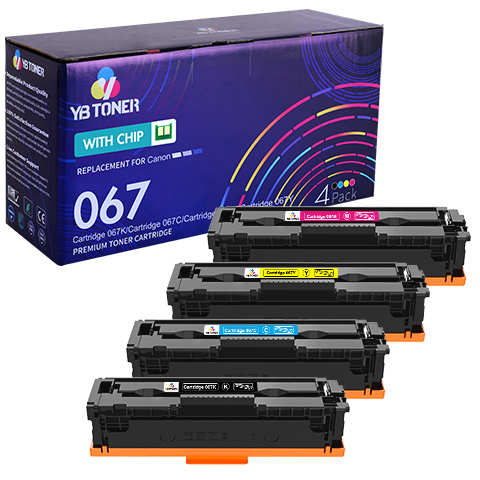 Compatible Canon 067 Toner Cartridge Set – KCMY – Standard Capacity
Works well with Canon MF656Cdw
Outstanding print quality
2-Year Product Warranty
30-Day Money Back Guarantee
Super Low Price: $179.95
Watch the video below to know more about the Canon – imageCLASS MF656Cdw printer.
Ⅴ. Summary
In short, Canon Color imageCLASS MF656Cdw is an outstanding multifunctional wireless laser printer. Its premium printing speed, resolution quality, wireless connection, and security locks ensure that any printing needs are met. Based on the above and other people's experience, here is a summary of this printer.
Pros:
Print, copy, scan, and fax(All-in-One).
High-quality performance & fast print speed of up to 22 ppm.
Wireless connection.
Security printing.
Easy to set up with a touchscreen.
Ample paper storage – one 250-sheet paper tray.
Compatible with a wide range of paper sizes and types.
Cons:
Too heavy & large body. This makes it difficult to move or transport.
Large print noise. Some users say that there is a big noise when printing.
OEM toner cartridges are expensive.