HP LaserJet Pro 4001dne Toner Cartridge Replacement from $39.95
Order this compatible HP LaserJet Pro 4001dne toner cartridge as a replacement for the original HP 4001dne toner. This toner replacement has been tested to provide the same OEM-quality prints. It brings you excellent compatibility and page yield at an affordable price. We offer standard yield toner cartridge HP 148A W1480A and high yield toner cartridge HP 148X W1480X for your needs. Just buy and use them with confidence. All of our products do not void your printer warranty. 100% Satisfaction Guaranteed.
IMPORTANT: "With-Chip" W1480A/X toner cartridge will NOT work in HP+ printers: 4001dne, 4001dwe, 4001ne, 4101dwe, 4101fdne, 4101fdwe. Contact us if you have any questions.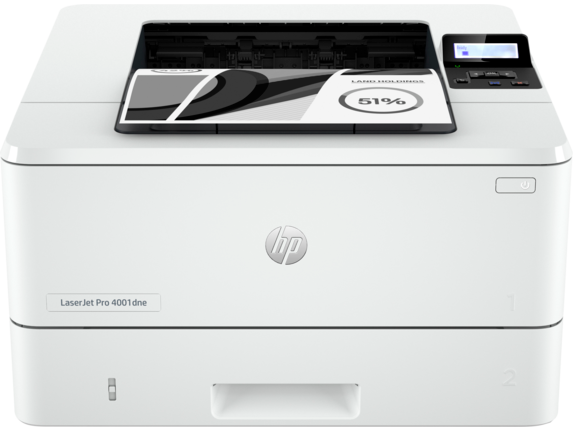 Why Compatible HP LaserJet Pro 4001dne Toner Cartridge Is Worth Buying?
Compatible HP LaserJet Pro 4001dne Toner Has Professional Quality
HP LaserJet Pro 4001dne toner cartridge replacement is designed with high quality materials that meet industry standards. This ensures that our compatible toners provide the same professional print quality as the original HP toner cartridges. HP 4001dne toner cartridge replacement delivers great printing. It works efficiently with your printer helping you to print crisp black text and sharp graphics. Besides, compared with other third-party products, our products have more stable performance. Our compatible products have a very low probability of powder leakage, dull color, messy pages, etc.
Compatible Toner Cartridge HP LaserJet 4001dne Has the Same Page Yield
The compatible W1480A HP 148A toner cartridge has a page yield of 2,900 pages. It is suitable for small offices or home offices. Compatible W1480X HP 148X toner cartridge has a page yield of up to 9,500 pages. For printer users who print a lot, this black toner cartridge is a fantastic choice. No matter what you print, you'll get stunning results on every page.
HP 4001dne Toner Replacement Has Excellent Compatibility and Easy Installation
HP 4001dne toner replacement works with HP LaserJet Pro 4001 series or HP LaserJet Pro MFP 4101 series printer. That means, HP 4001dne toner is interchangeable with HP 4101fdwe toner.  It can work perfectly in both HP 4001dne and HP 4101fdwe. What's more, compatible HP LaserJet Pro 4001dne toner is easy to install and use. Once installed, it will give you superior printing results at fast printing speeds.
NOTE: Our HP 148A and HP 148X compatible toners do not have chips. You need to transfer the chip from the used toner cartridge to the new one. The chip transfer process is very simple. Check out the video below to remove the chip.
We Offer Low Prices For Compatible HP LaserJet 4001dne Toner Cartridge
We are proud to offer compatible HP LaserJet Pro 4001dne toner cartridges at low prices. It can greatly reduce your printing costs. Compared with the original, our HP 4001dne toner is cheaper. Buying it will save you up to 70%-80%. Plus, we offer free shipping on orders over $30 (the contiguous U.S. only).
We Provide HP 4001dne Toner Replacement Buyers With A 100 Satisfaction Guarantee
YB Toner backs you with a 100% satisfaction guarantee for your peace of mind. All your orders will arrive within 1-3 days. Also, we back it with a 30-day money-back guarantee and a 2-year product warranty. If you have any questions or are not satisfied with your purchase, please do not hesitate to contact us. Our customer service will give you a satisfactory solution.