HP Laserjet Pro MFP M428dw Toner Replacements from $36.99
These compatible M428dw toner cartridges are of excellent alternative to original HP toner cartridges. For customers who want to buy a high standard HP M428dw toner, its great compatibility will meet your needs. Thus Laserjet Pro MFP M428dw toner delivers high quality prints without damaging your HP laser printer. In addition, HP Laserjet Pro MFP M428dw toner cartridges with a wide range of page yields. For example, standard yield HP 58A toner prints 3,000 pages, while high yield HP CF258X toner prints approx 10,000 pages.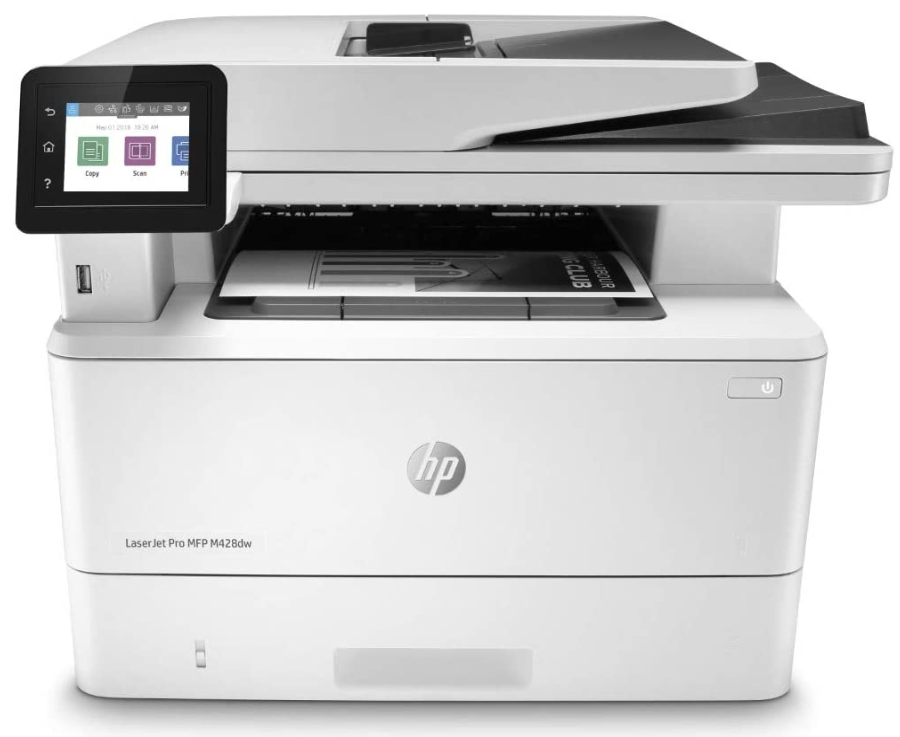 YB Compatible HP Laserjet Pro MFP M428dw Toner with Below Merits
We offer HP Laserjet Pro MFP M428dw toner cartridges at a favorable price.
Just like OEM, we have the M428dw toner cartridges with the chip. Nevertheless, the price of original toner cartridges is different from the price of our compatible toner cartridges. For example, high yield black toner HP 58X is only priced at $98.95. If you want a more preferential one, we also have a two-pack HP58X (no chip) at $89.99. It consists of two high yield black toner cartridges but costs you less.
HP Laserjet Pro M428dw toner cartridges prints vivid and clear text.
Compatible HP Laserjet Pro M428dw toner is made of qualified materials to meet the same printing standard as the original HP toner. In addition, we use new technology and premium accessories to improve the printing performance of ink toner. Therefore, the HP M428dw toner cartridge prints clearly visible black and white text with no shadows on the bottom.
We provide warmhearted service for HP Laserjet M428dw toner cartridges.
HP Laserjet M428dw toner is available for each M428dw printer user. Place an order at YB Toner, you will get your compatible toner cartridges as soon as possible. What's more, if your order is more than 30 dollars, we will waive the shipping fee for you. Please feel free to consult us when you have any doubts about our HP M428 toner.
Frequent Asked Questions about HP M428dw Toner Replacements
1.How do you Guarantee the Quality of the compatible HP Laserjet Pro MFP M428dw Toner?
Many customers think that the quality of compatible toner cartridges is poor because of the low price. Actually, this idea is one-sided. Because of the rise of compatible toner cartridges, more and more customers prefer compatible toner cartridges. In such a fierce competitive environment, YB dare not relax and has been improving the quality of toner cartridge. The raw materials we use are all green and high-quality. Besides, we every production step is in line with strict requirements. What's more, toner cartridges that can't pass our rigorous quality tests are not allowed on the shelves. For your reference, we have more than 5 million customers from 48 countries. And most of them are willing to give favorable comments after using our compatible toner cartridges.
2.Can HP58X works better than the HP 58A Black Toner?
Either HP58X or HP58A will be your outstanding working helper. Under the same production steps, their appearance and quality are kept at a high level. The only difference between them is the page output. There are more toner powder installed inside the CF258X than the HP 58A. As the high-yield version, HP 58X can print up to 10,000 pages, which will good choice for customer desiring to print more. Similarly, if you don't print often, you can try HP CF258A with a standard-yield of 3,000 pages.
3.Is it complicated to change the chips from the original HP?
Please rest assured that if you buy our toner cartridge without chips, you will receive our tools for changing chips freely. With the tools specially designed by our R&D team for chip replacement, it is not difficult to change chips. Chip is an important part of toner cartridges. But most compatible manufacturers will not provide toner cartridges with chip. Therefore, most customers think that only the original HP offer toner cartridges with chip. However, YB provides customers with more options. You can buy convenient HP 58A or HP58X with chip in YB. Also, you can buy cheap HP58A or HP58X without chip. As you may know, the chip is responsible for connecting the toner cartridge with the HP laser printer, and receiving instructions from the printer.