HP Laserjet Pro MFP M428fdn Toner Replacements from $36.99
We provide high quality compatible HP Laserjet Pro MFP M428fdn toner cartridges for your HP laser printers. Because of the great compatibility, they are an outstanding alternative for your original HP toner cartridges. Therefore, using our compatible HP Laserjet M428fdn toner will not void your printer warranty. In terms of the M428fdn is a laser printer, so M428fdn toner cartridges are laserjet toner cartridges. They cost less than ink cartridges but have the same quality. We have compatible HP CF258X and compatible HP 58A toner cartridges in different page yields. And also, the price of our M428fdn toner replacements can reduce your printing cost.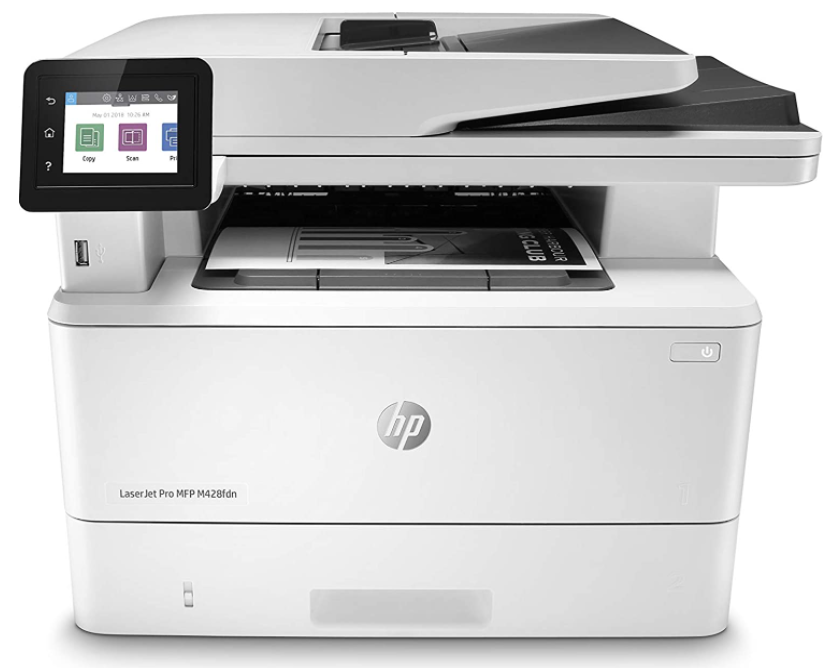 HP Laserjet Pro MFP M428fdn Toner Replacements Are A Better Choice
YB provides high quality compatible HP Laserjet Pro MFP M428fdn toner.
We aim to offer customers premium toner for HP Laserjet Pro MFP M428fdn printer. And the compatible M428fdn toner cartridge is of high quality, using the finest raw materials to print. Its shelf life can be 24-36 months if you store HP 58X or HP 58A black under stable conditions. To provide qualified toner cartridges for HP printers, HP Laserjet M428fdn toner has been tested many times on the production line to meet ISO standards.
Toner for HP Laserjet Pro MFP M428fdn printer has outstanding performance.
HP Laserjet Pro MFP M428fdn toner cartridges are laser toner cartridges, so they have a faster running speed than ink cartridges. Besides, the M428fdn belongs to a laser printer, so its speed of printing per page is also quicker than the inkjet printer. This ink toner prints high-resolution text and images with the same performance and quality as the original HP toner cartridge. In a word, our black toner cartridges are time-saving and efficient.
Various page yields of compatible HP Laserjet M428fdn toner cartridges.
The page yield of our high yield black toner cartridge is 10,000 pages. If your monthly print volume is bigger than 500 pages, then our HP58X black toner cartridges can satisfy your needs. On the other hand, for those who are only using it for small offices or family daily, we also have standard-capacity HP58A black. It prints approx 3,000 pages, enough for small printing work.
Frequent Asked Questions about HP Laserjet Pro MFP M428fdn Toner Replacements
1.Why can you Lower the Price without Sacrificing the Print Quality?
You may worry about the quality of our compatible toner cartridges because of the low price. However, we can assure you that the quality of our toner cartridges is comparable to that of the original HP. Moreover, we will research and reproduce those products with substandard quality, and constantly improve their quality. Providing customers with affordable and high-quality toner cartridges is our goal. The reason why we can provide cheap toner cartridges without sacrificing quality is that YB owns factory. Automatic production saves us a lot of production costs while maintaining quality. That's why our toner cartridges are both high-quality and cheap.
2.Do I Have to Remove the Chip from the original HP to your compatible HP Laserjet M428fdn Toners?
The toner cartridges must contains the chip to work normally. The chip connects the toner cartridge with the printer, which ensures that the toner cartridge can receive the instructions of the printer to complete printing. We provide our customers with HP58A and HP CF258X with and without chips, so you can choose according to your preferences. If you buy the HP CF258A or HP58X with a chip, you don't need to spend time replacing the chip when using the new toner cartridge. If your budget is limited, you can try our HP58A HP58X without chips. And we will provide tools for changing chips for free.
3.Will you Offer Customers with Free and Fast Shipping?
If the order amount is up to $30, we will provide free and fast shipping for customers living in the continental United States. At the same time, we will pay part of the freight for customers who place orders under $30. So they only need to pay $4.95. In addition, orders placed before 4:00 p.m. PST or 5:00 p.m. EST will be shipped on the same day. And we will arrange shipping for customers who place orders after 4:00 p.m. PST or 5:00 p.m. EST the next day.