HP Color LaserJet Pro M454dn Toner Replacements
Our M454dn toner cartridges is committed to reach the standard of high performance and stable quality. In addition, these compatible laser toners cartridges are brand new and excellent substitute to original HP toners. Not only that, we have both standard yield HP414A and high yield HP414X to match your HP printer. Thus, you can buy black cyan magenta yellow toners in a 4-pack HP414X/414A. On the other hand, using YB compatible HP M454dn toner does not void your printer warranty. Moreover, we guarantee you 100% satisfaction for print quality and the high compatibility of HP M454dn toner cartridges. If you have any problems about HP Color LaserJet Pro M454dn toner, please contact us at working time.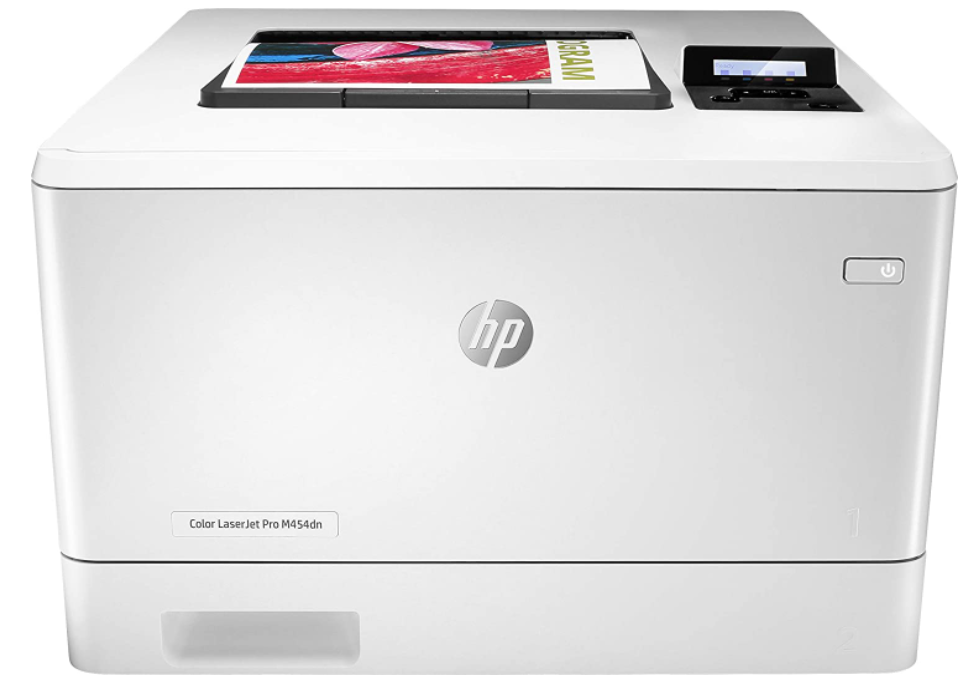 The Virtues of YB M454dn Toner Cartridge Replacement
Compatible HP M454dn toner with good quality
Color LaserJet Pro M454dn cartridges is also called HP414. These compatible toners have the same shelf life of the OEM HP toner cartridges. So you can store them for 2-3 years under a proper situation. And also, high quality of HP M454dn toner delivers better printing output.
High compatibility of Color LaserJet Pro M454dn toner
Apart from quality, HP414 toner cartridges are highly compatible with HP Color LaserJet Pro M454 series, HP Color LaserJet Pro MFP M479 series printers, HP Color LaserJet Enterprise M455dn, and HP Color LaserJet Enterprise MFP M480f HP printer. With smart IC chips, our compatible Color LaserJet Pro M454dn toner can be easily recognized.
HP M454dn toner replacement with favorable price
YB Toner's HP Color LaserJet Pro M454dn toner cartridges provide customers with favorable price because of high production efficiency. The price of original HP toner is much higher. For example, the genuine HP 414X black priced $180.89 on amazon. But our compatible HP 414X black costs less, you can save almost 50% on compatible toners.
Multiple choices for HP M454dn toner replacement
We provide many options for different HP M454dn toner buyers. Want to save more money and not feel troublesome to change the chip? HP 414A toner set (without chip) is worth a shot. Don't worry, it still works with your laser printers, just remove the chip from original HP toners. However, if you are unwilling to change the chip, we also prepare complete M454dn toner cartridges for you.
Excellent service provided for M454dn toner buyers
Once you buy M454dn toner replacement at YB, you can experience excellent service. If you place an order on a business day, we will ship our products within 1-3 days. Moreover, if the time before 4:00 pm PST or 5:00 pm EST, you even can receive the package at the same day. For continental Americans, over $30 orders can enjoy the free shipping.
More Questions about HP Color LaserJet Pro M454dn Toner
1. Are M454dn ink cartridges the same as M454dn toner cartridges?
No, HP Color LaserJet Pro M454dn toner cartridges are not the same as ink cartridges. Just like the name itself, ink cartridges use liquid ink to print on papers. Instead, toner cartridges use dry powder to print high quality documents. So you can tell the major difference is their materials. Meanwhile, there are also some gaps between their working efficiency and print performance. For instance, ink cartridges have stronger color expression than toner cartridges. Nevertheless, toner cartridges provide faster printing speed and lower cost. For color laser printers, they can only use LaserJet cartridges to print.
2. Can I use different HP M454dn toners together?
Is it possible to mix up the HP414A and HP414X on the same HP printer? Yes, you can do that. Even if their page yield is different, they both compatible with the same color laser printers. For instance, black toner cartridge prints more pages than other color toners. And also, it needs more powder to work with other colors. To solve this problem, you can buy a high yield black toner and standard yield color toner to print. For those who prints mostly black and look for a extended life black cartridge, buy black 414X and 414A combo can save more cost.
3. Is it better to buy a high yield HP M454dn toner?
Take black M454dn toner as an example, 414X black prints 7,500 pages, while 414A black page yields 2,500. If your work needs a lot of paper prints, then high yield 414X is your best choice. But a small office worker or home users require less page yield. So standard yield 414A can meet their needs. Furthermore, the more you buy the more discount you will enjoy. Want to know more buying suggestions? You can view our blog HP 414A vs 414X, Which One Should I Buy?
4. What is customer support, is it customer service?
Customer support is to help customers use products in a cost-effective and correct way. It is a range of customer service. In today's competitive environment, it is more important than ever to provide customers with responsive and relevant support. Whether through email, SMS, social media or phone, helping customers solve problems should be the top priority of any business. With good customer support, a business will won customers' trust in a better way.