HP LaserJet Pro MFP 4101fdwe Toner Cartridge Replacement from $79.99
HP LaserJet Pro MFP 4101fdwe toner replacement includes standard yield compatible HP 148A W1480A toner and high yield compatible HP 148X W1480X  toner. They are professionally designed to produce high quality printouts for your HP printer. Besides, our toner cartridge replacements are made with top quality new components in ISO9001/ISO14001 certified factories. Both compatible toner cartridges feature a smart IC chip that delivers accurate toner levels. They can be 100% recognized by HP printers. Plus, our prices are very competitive compared to original HP toner cartridges. With a 100% satisfaction guarantee, we believe they are your ideal choice for your printer. And we also offer a lifetime guarantee for all our compatible printer ink and toner cartridges. Shop today at a low price and get free shipping!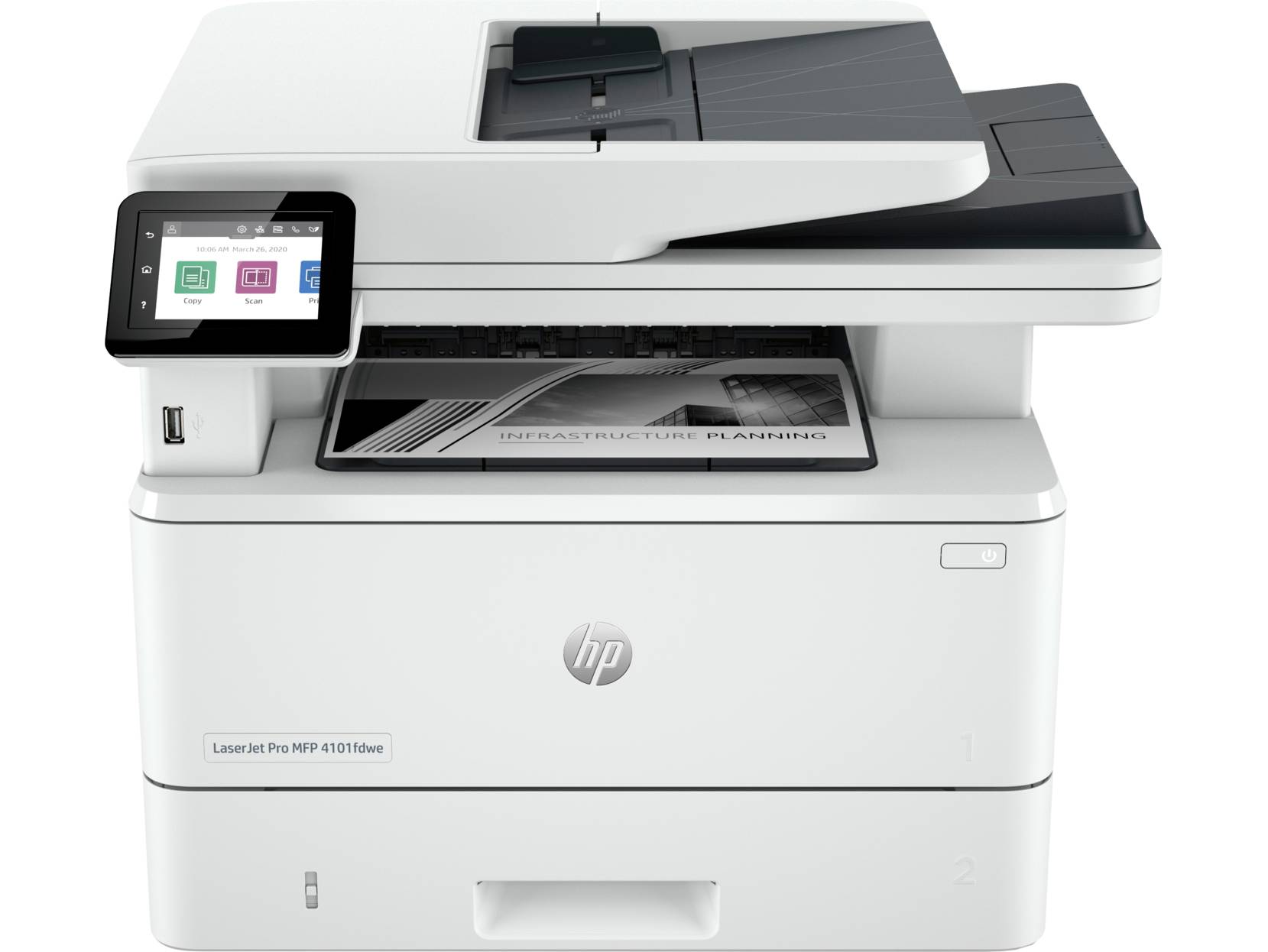 Why Choose HP LaserJet Pro MFP 4101fdwe Toner Cartridge Replacement?
Compatible HP LaserJet Pro MFP 4101fdwe Toner with Cost-Effective Performance
HP LaserJet Pro MFP 4101fdwe toner cartridge replacements provide genuine-like print quality but cost much lower. Each toner cartridge produces impressive print results page after page, helping you print crisp black text and professional quality graphics. But the price is only about 60%-70% of the original HP toner cartridges. They are the best-saving supplies for HP LaserJet Pro MFP 4101fdwe printer.
Moreover, we offer free shipping if you place an order for our compatible products with an amount over $30. You can save a great deal of money by using our compatible ink toner cartridges.
HP 4101fdwe Ink Replacement with Easy Installation and Excellent Page Yield
Compatible HP LaserJet Pro MFP 4101fdwe toners are easy to install and have strong compatibility. They work well with HP LaserJet Pro 4001, and HP LaserJet Pro MFP 4101 series laser printers. In addition, our compatible HP 4101fdwe ink provides you with different page yields. Standard yield HP 148A W1480A black toner cartridge prints 2,900 pages at 5% coverage (Letter/A4). It is suitable for homes or small offices with a low volume of printing jobs. High yield HP 148X W1480X black toner cartridge prints more pages than its standard version. It has a page yield of up to 9,500 pages at 5% coverage (Letter/A4). It is perfect for busy offices with high print volumes. Want to learn more about the HP 148A and HP 148X black toner cartridges? See our blog HP 148A vs 148X, Which One Should I Buy.
Compatible HP 4101fdwe Toner Cartridge with a 100 Satisfaction Guarantee
YB provides customers with favorable prices, superb products, and sincere service to ensure you have a pleasant shopping experience. We cover you with both a 30-day money-back guarantee and a 2-year warranty. If you feel dissatisfied with your purchase or have any questions, please feel free to contact us by phone, email, or live chat. Our customer service will provide you with satisfactory solutions such as tech support, a refund, and a new replacement.
Frequently Asked Questions about HP LaserJet Pro MFP 4101fdwe Printer Toner Replacement
What printer uses HP 4101fdwe ink cartridge?
This HP printer ink cartridge is compatible with HP LaserJet Pro 4001, MFP 4101 series laser printers. The compatible printer models are HP LaserJet Pro 4001dw, HP LaserJet Pro 4001dwe, HP LaserJet Pro MFP 4101fdw, and HP LaserJet Pro MFP 4101fdwe.
Does your HP 148A/148X toner cartridge come with a chip?
Yes. We offer you the compatible HP 148A/148X black laser toner cartridge with an IC chip that intelligently tracks toner levels. We also provide you with no chip version to help you save more.
How long is the shelf life of your HP 4101fdwe toner cartridges?
Generally, our HP 4101fdwe toner cartridges have a shelf life of two years without opening the protective bag. They will last longer if stored properly. Therefore, we recommend that you store them in a dry, dark place at room temperature. Make sure the printer cartridges are sealed until you are ready to use them.
Will this printer toner void my printer warranty?
No. The use of compatible toner cartridges will not void your printer warranty. Original printer brands cannot deny warranty obligations on the grounds of using compatible ink toners. The MAGNUSON-MOSS WARRANTY IMPROVEMENT ACT protects your legal rights.
Will you sell my personal information?
No. We abide by the relevant terms and conditions and will never sell your personal information for any purpose. We will also do everything possible to keep your information safe. Moreover, our website has Secure SSL (Secure Socket Layer) certification. So you can buy with confidence.