HP Laserjet Pro MFP M428fdw Toner Replacements from $36.99
Here you can find favorable HP Laserjet Pro MFP M428fdw toner replacements for your original toner cartridges. M428fdw toner is an excellent alternative, with print performance and quality comparable to OEM products. Moreover, our compatible toner cartridges have high compatibility and can be perfectly matched with your printer as printing supplies. So the usage of our HP M428fdw toner can bring less damage to your printer. Besides, Laserjet Pro MFP M428fdw toner cartridge will not affect your printer warranty. In general, HP MFP M428fdw toner cartridge includes high yield CF258X and standard yield CF258A. (They are also known as HP58X or HP58A) And these M428fdw toner cartridges both are high-cost performance and high quality printing supplies.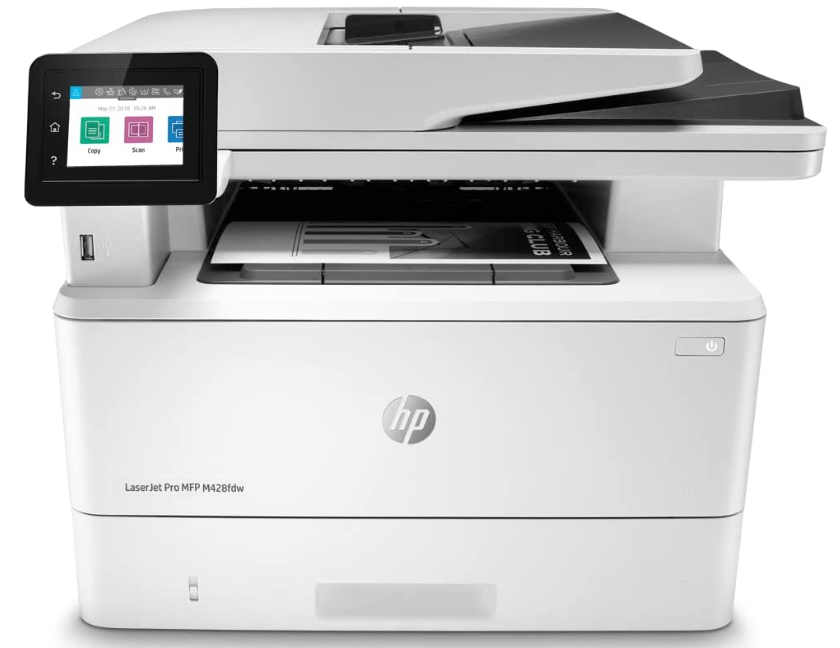 Why Are YB Compatible HP Laserjet Pro MFP M428fdw Toner Cartridges Worth Buying?
We provide HP Laserjet Pro MFP M428fdw toner replacements with high quality.
These M428fdw toner cartridges are designed to the standard of the original toner cartridges and even match the quality of the genuine ink toner. All our compatible toner cartridges are subject to strict quality control and undergo a series of tests in the factory. So HP M428fdw toner cartridges provide you with sharp text and vivid prints. The black and white documents printed by our black toner cartridges have clear lines and no ghosting, which is clear at a glance. Because we use fully automated production, the fault tolerance rate of our compatible M428fdw toner cartridges is less than 1%. To ensure these toner replacements are of high quality, we will conduct a 5-page printing test on each before hitting the shelf. Moreover, using high quality toner cartridges can better protect your printer and give it a more stable lifespan.

Compatible HP Laserjet Pro MFP M428fdw toner has built-in chips.
Because M428fdw toner cartridge has the built-in chip, it is easy to install and works smoothly with your printer. Moreover, with smart chips, your Laserjet Pro MFP M428fdw printer will recognize our compatible black toner cartridges faster. And the chips of HP MFP M428fdw toner are reusable. So you don't need to replace the chip as often until your compatible toner cartridges run out of life. Once you run out of ink toner with chips, you can buy a no-chip black toner, install the original chip (Don't know how to get a chip? View the blog: How to remove chip from HP toner cartridge). It will help you save more on printing costs because of the low price of no-chip ink toner. In addition, our M428fdw toner replacement is highly compatible with HP laser printers, making the printer work consistently and reliably.

We offer Laserjet Pro MFP M428fdw toner buyers with thoughtful service.
YB promises to offer a 100 satisfaction guarantee to every HP M428fdw toner buyer. For this reason, we continue to improve the after-sale service of our compatible ink and toner products. Furthermore, our warehouses are located in California and Pennsylvania, so customers in the continental U.S. can enjoy faster delivery. Meanwhile, if the order is over 30 USD, you can enjoy free shipping living in continental USA. Additionally, if there are any questions about our ink and toner cartridges, we will help you solve them. In addition, if the customer unluckily gets some defective printing supplies, we will provide corresponding compensation.
Compatible HP Laserjet Pro MFP M428fdw toner cartridges are of low cost.
To meet different customer needs, HP MFP M428fdw toner replacements are available in standard yield and high yield. Whether high-capacity or standard-capacity, our compatible M428fdw toner cartridges are low-cost products compared to the original. Because genuine laser toner cartridges are truly expensive. For instance, the price of an original HP 58X is $232.89. In contrast, our HP58X with chip only costs $98.95. And because it's a high yield cartridge capable of 10,000 pages, its cost per page is low at 0.94 cents. For customers with high printing needs, our compatible M428fdw toner cartridges are an affordable option.

Frequent Asked Questions about HP Laserjet Pro MFP M428fdw Toner Replacements
1.May I buy only Chips from YB?
You can buy HP CF258A and HP CF258X with chips in YB. But we don't sell chips separately. In general, you also can't buy a separate chip from other stores. Because chips are always sold together with toner cartridges. Besides, if you look at several compatible manufacturers, you will find that most of them can't provide customers with toner cartridges with chips. After years of efforts, YB can finally provide customers with high-quality and low-price selenium drums with chips. Besides, we also provide products without chips for customers who want to save more printing costs. You only need to change the chip from used toner cartridge to the new one. The chip can be reused many times. By the way, we will send chip replacement tools to every customer who buys toner cartridges without chip.
2.Which one is cheaper, HP 58X or HP 58A?
Generally speaking, the high-yield HP 58X is a little more expensive than the standard-yield HP58A. However, the HP58X can print more pages. Because the toner powder in HP 58X is more than that of HP 58A. In fact, both HP 58X and HP58A can withstand the test. Automated production technology ensures their quality. You can choose one according to your printing frequency. HP 58X can help you print more if you need to print frequently. Meanwhile, HP58A can help you save money if you print not so often.
3.How can I print in color with HP CF258X or HP CF258A?
Sorry, you can't print color text with HP CF258X or HP CF258A. HP58X and HP58X can work in the HP laserjet pro MFP M428FDW printer, which is a monochrome printer. The monochrome printer can only print black and white paper. Only a color printer can print in color. So if you want to buy a color printer, you can consult our professional customer service staff, who will give you some suggestions.
4.What if I don't Live in Continental US or my Order is less than $30?
We offer free shipping for customers living in the continental USA who purchase over $30 at a time. If your order is less than $30, we will pay part of the freight for you. So you only need to pay $4.95. Please note that all of these require that your delivery address is within the continental United States. We have specified specific transportation rules for customers living in Hawaii, Puerto Rico, Alaska, and Jalisco, Mexico. If you want to know, you can contact our customer service staff via phone, email, etc.
5.What is the shelf life of this HP M428fdw Toner Replacements?
The shelf life of toner cartridges is two years. They can be kept for a long time when placed in a suitable environment (not very cold or very hot). Too wet environment will make toner powder get together, which will affect the quality. And if you don't plan to use them immediately, please keep them sealed. With such a long shelf life, you can buy several once saving both money and time.
6.How can you Ensure the Safety of my Personal Information?
With the development of the Internet, personal information leakage is becoming more and more serious. But please rest assured that YB is a registered trademark. All information is true. It is our target to provide customers with high-quality and affordable toner cartridges. What's more, we have more than 5 million customers from 48 countries. Your personal information will only be used for shopping and after-sales service in YB. Therefore, when you fill in your personal information, please make sure that the information you fill in is correct. Because personal information concerns whether you can receive the goods and some small gifts we sent you.