Compatible HP LaserJet Pro 4001dwe Toner Cartridge from $39.95
If you're finding HP LaserJet Pro 4001dwe toner, we have both compatible standard-yield HP 148A (W1480A) and high-yield HP 148X (W1480X) toner cartridge. They are actually the same cartridges of excellent performance, perfectly fit with your printer. The main difference is on the amount of toner powder, to meet various printing demand of different printer users. Besides, they are different in price. You may get surprised at the price of original HP 4001dwe toner. The standard yield one will cost you over $110. And the high-yield one even doubles the price of it. If you're worry about your budget, YB compatible HP 4001dwe toner will be well worth your consideration. YB Toner offers cost-saving HP 4001dwe toner replacements with great compatibility, high quality and best guarantee! For your peace of mind, we offer a full two-year warranty and a 100% satisfaction guarantee on your orders. Order now to save big! More than this, you will enjoy great benefits from buying more. Free shipping, discounts and so on!
IMPORTANT: "With-Chip" W1480A/X toner cartridge will NOT work in HP+ printers: 4001dne, 4001dwe, 4001ne, 4101dwe, 4101fdne, 4101fdwe. Contact us if you have any questions.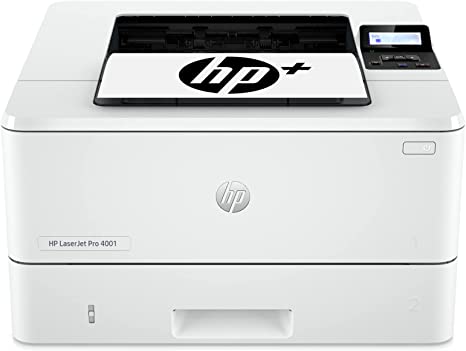 About HP LaserJet Pro 4001dwe Printer
HP LaserJet Pro 4001dwe is a monochrome laser printer, with the basic function of printing. It has the capability of duplex printing, just several clicks on the control panel can complete an easy printing. Also it's feature-rich connectivity includes USB, Ethernet and Wifi. HP LaserJet Pro 4001dwe seems a bit bigger and heftier than some home-use printers, as it uses relatively high-yield toner cartridges, HP 148A and HP 148X. The former one is enough for occasional print jobs, with 2,900 yield while the latter can prints up to 9,500 at 5% coverage. Obviously both toner cartridges can last for a rather long time to print.
HP LaserJet Pro 4001dwe is of high performance in printing, with outstanding fast speed up to 42 pages per minute. With short or even no warm-up time, you printer is ready to print once you click to turn it on. In addition, this printer is equipped with HP+, a HP smart printing system. HP sets it to provide you with efficient support for smooth printing jobs. But to make it work, it requires you to create an HP account and keep constant internet connection.
As a monochrome printer using black toner cartridge only, HP 4001dwe is not able to bring you colorful prints. But if you expect to print large amount of sharp and clear black & white documents, it's definitely an easy-to-use machine for your everyday printing. This printer is perfect for small and medium offices.
About HP LaserJet Pro 4001dwe Toner
There are two options of HP 4001dwe toner – HP 148A and 148X. Both of them are similar in appearance and can fit with the same printer models. That is, they are interchangeable for you HP 4001dwe printer. Page yield stands for the number of pages printed at 5% page coverage til the cartridge runs empty.
The main difference between HP 148A and 148X toner is their capacity, the page yield. Obviously, the more toner powder a toner cartridge contains, the more prints you will get. HP 148A toner W1480A is a standard-yield toner cartridge with a yield of 2,900 pages at 5% coverage (Letter/A4). And HP 148X toner W1480X with much higher yield, prints up to 9,500 pages. Due to the different amount of toner powder, their prices are also different. Undoubtedly, the high yield 148X has a higher price. You'd better choose the one that meets your printing demand without comprising your budget.
If you have interest in their similarities and difference, see our blog HP 148A vs 148X, Which One Should I Buy.
Why is Compatible HP LaserJet Pro 4001dwe Toner Cartridge worth buying?
About YB Compaitble HP 4001dwe Toner 
1. Superb Performance
As an experienced manufacturer and leading printer cartridge suppliers, YB Toner specializes in making compatible toner cartridges with consistently guaranteed quality. Especially for HP toner cartridges, all are rigorously tested for performance, compatibility, and capacity to provide consistent, productive and uninterrupted daily printing.
Our compatible HP LaserJet Pro 4001dwe toners are manufactured to the highest performance and quality standards, delivering marvelous print results. So you can trust them for crisp important documents and professional quality graphics page after page. They will work as a perfect replacement of the genuine HP LaserJet Pro 4001dwe toners but at a very budget-friendly price.
2. Guaranteed Compatibility
Each of our HP LaserJet Pro 4001dwe toner is designed and produced to fit perfectly with all compatible printer, including the structure, components and even the premium toner used. In addition, normal test during production makes sure that each toner cartridge works in each compatible printers without any problem.
Therefore, our HP 4001dwe toner replacements are guaranteed to perform with HP LaserJet Pro 4001 and HP LaserJet Pro MFP 4101 series printers, including HP LaserJet Pro 4001dw, HP LaserJet Pro 4001dwe, HP LaserJet Pro MFP 4101fdw, and HP LaserJet Pro MFP 4101fdwe, etc. That means HP LaserJet Pro MFP 4101fdwe toner can also be used in HP 4001dwe printer. If you do confirm that your printer is on the list, you can rest assured that our HP 4001dwe toner won't void the printer warranty. So you can purchase our HP 148 cartridges with confidence.
3. Much Lower Printing Costs
YB Toner is proud of bringing down your printing costs without compromising the quality performance of HP 4001dwe toners. We produces compatible HP 4001dwe toners with the same page yield as HP genuine cartridge respectively. But their price is surprisingly much lower than OEM price. Currently, we offer no-chip version of them which will help you save more.
Compared with an original HP 148A toner for over $110, YB W1480A saves you up to $80. If your printer is is used in a small office or for home use, HP 148A with 2,900 yields is economical enough and will last for a rather long period of time before replacement.
If you have a rather large amount of printing work for your business, we'd suggest you choose 9,500-yield HP 148X. HP sells it at around $220. YB compatible W1480X prints the same number of papers but goes for saving you about $180. Obviously, using genuine HP 4001dwe toner will cut you an arm and leg. It's also hard for you to recoup your cost soon. Therefore, YB high yield HP LaserJet Pro 4001dwe toner 148X is definitely the best value for money, more cost-effective for your everyday printing.
About YB Service
1. Free Shipping & Fast Delivery
We provide free shipping on your order over $30 sent to the continental USA. Even though you just want to purchase one tone cartridge with price below $30, the flat rate shipping is only $4.95 for your order. It's still wallet-friendly compared to buy the original cartridge.
Besides, we have two warehouses to cover all orders shipped to the whole USA. Your order will go out the same day from the nearest warehouse if placed before cut-off. You will get your toner cartridge within 1-3 days. Know more from our Shipping Policy.
2. 100% Satisfaction Guarantee
What's more, we provide both a 30-day money-back guarantee and a 2-year warranty on our products, to give you peace of mind. It's unfeasible for most compatible toner cartridge suppliers but we can. Read our Refund and Returns Policy to feel more confident from buying YB toner cartridges.
If you have questions about the installation of HP LaserJet Pro 4001dwe toner, we suggest you review our blog How to Install HP 148A / 148X Toner Cartridge. More details, such as how to check toner level, how to remove OEM chip, and how to change the setting for smooth printing, are included for your reference.
If you feel dissatisfied with your purchase or have any questions, please contact us by email, phone, or live chat at any time. Our friendly customer service team will provide you with satisfactory solutions.
More about HP 4001dwe toner: