HP LaserJet Pro 4001ne Toner Cartridge Replacement from $39.95
The toner replacement for HP LaserJet Pro 4001ne printer includes HP 148A (W1480A) and HP 148X (W1480X). The A version offers a yield of 2,900 pages at a lower price. The X version with 9,500 yield costs you more but prints more cost-effectively, with lower cost per page. YB Toner, as a qualified toner cartridge supplier, is capable of offering quality HP LaserJet 4001ne toner replacements (No-chip version). Even though they are not attached with chip, you can complete the toner installation without difficulty under the clear instruction. Then, you will get remarkable print results using our compatible toner cartridge to print your documents. Most importantly, the price of our 4001ne toner cartridge is unbeatable compared with most toner cartridge suppliers, including OEM HP.
IMPORTANT: "With-Chip" W1480A/X toner cartridge will NOT work in HP+ printers: 4001dne, 4001dwe, 4001ne, 4101dwe, 4101fdne, 4101fdwe. Contact us if you have any questions.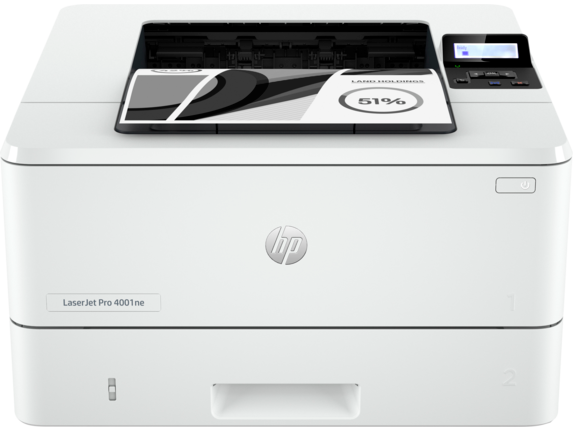 Reasons for Buying Our HP 4001ne Toner Cartridge Replacements
Hassle-free Installation Process
Both HP LaserJet Pro 4001ne toner we offer are in "non-chip" version. Although this toner replacement is not built-in with chip, there are clear instruction and chip removal tool included in the package if you buy our compatible HP 4001ne toner. The chip transfer and installation job is really user-friendly. You will do the modification easily and complete the installation smoothly within several minutes. We suggest you read our blog "How to Remove Chip from HP Toner Cartridge" which show the operational steps detailedly.
Note: Please make sure you have an original HP 148A/X toner cartridge with HP original chip. You need to remove this chip and install it in our new compatible toner.
To have our respected customers enjoy high-quality compatible HP 4001ne toner as early as possible, our technicians have done their best to work hard on the development and production of our compatible HP 4001ne toner. The manufacturer applied several rounds of rigorous testing to toner cartridges, ensuring the quality of toner cartridges. So, our HP 4001ne toner can have genuine-like print performance. Working smoothly with the printer, they can yield the same number of high-quality printed pages as the OEM cartridge.
Low Sale Price In The Market
The price of "no-chip" version toner cartridge is much lower than "with chip" version. So, there is no doubt that our compatible HP LaserJet Pro 4001ne toner cartridges have an unbeatable price. Only with a fraction of the cost, you can get one 4001ne toner cartridge, together with one 148A/X toner chip removal tool and an instruction. It means you don't pay extra fee for the chip removal tool, helping you save more money.
(Warm tip: Some other toner cartridge supplier may not offer free toner chip removal tool for their "no-chip" version toner cartridge.)
Better After-sale Services In The Industry
Most other toner cartridge sellers only offer 1-year product guarantee. However, we stand behind our product by offering 30-day money-back guarantee and 2-year quality warranty in any case. Not satisfied with our LaserJet Pro 4001ne toner? Never mind. Feel free to contact our responsive customer services staff to ask for a replacement or refund within 30 days. Find any problems with our products? Never mind. We fully respond for the defective toner cartridges by offering you tech support, a new replacement or a refund within 2 years.
Frequently Asked Questions about HP LaserJet Pro 4001ne Printer And Toner
Why is my HP 4100ne print so slow?
There are some reasons for your HP 4100ne printer printing so slowly. Firstly, the drivers of your printer may be missing or outdated. You need to load or update your printer driver from the HP official website. Secondly, no toner or issues in toner cartridge also will lead to the slow printing. The way to fix this problem is to change a new toner cartridge. Thirdly, the network of your HP printer is poor. You can check the network's signal first. If the signal is weak, we suggest you put the router closer to the printer.
HP 148A or HP 148X, how do I choose?
HP 148A is standard yield toner cartridge, while HP 148X is high yield toner cartridge. The high yield HP 148X can yield more pages than HP 148A. If you print a lot of documents everyday, the high page yield HP148X toner is more suitable for you. By the way, the cost per page of high yield one is also lower than the standard yield one. So, the HP148X will be an optimal choice for you if you want to reduce print cost. Read the blog HP 148A vs 148X, Which One Should I Buy to get more information.
Can I use compatible HP LaserJet Pro 4001ne toner cartridge print color pages?
No, compatible HP LaserJet 4001ne toner cartridge is not able to print color pages. Neither can genuine one. Because HP LaserJet Pro 4001ne is a monochrome LaserJet printer, printing only B&W documents. That means HP LaserJet Pro 4001ne toner only contains black toner powder. This black toner cartridge can only print black and white pages. So does HP LaserJet Pro MFP 4101fdwe toner for the same printer series.
Is safe to use your compatible LaserJet Pro 4001ne toner?
Of course, it is secure to use our compatible LaserJet Pro 4001ne toner cartridge. Our compatible 4001ne toner cartridge is highly compatible with your printer. And, our toner cartridge can work smoothly with the HP printer (no damage, no error).