Canon Color imageCLASS MF743Cdw Review
Canon Color imageClass MF743Cdw is an all-in-one color laser printer that integrates print copy scan and fax functions. As a wireless printer, it's easy to connect with your desktop and mobile devices and produce high quality prints both in B&W and color. The recommended monthly page volume of this machine is 750 to 4,000 pages, which is enough for most small and medium size businesses. Also, Canon imageCLASS MF743Cdw's high-definition touchscreen delivers an intuitive user experience. Compared to inkjet printers, this Canon laser printer is faster, less expensive, and uses toner cartridge that last longer. Therefore, it's a good printer for small businesses and is among the best all-in-one home printers.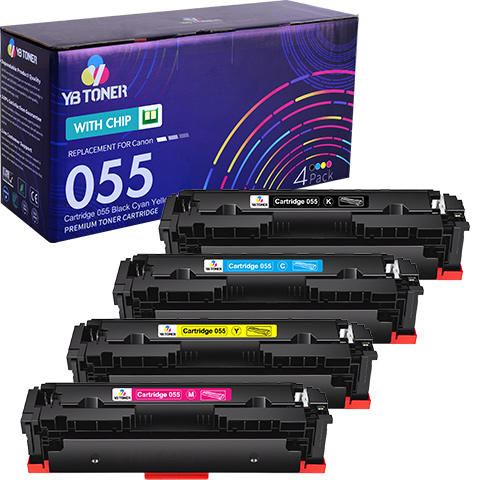 Compatible with Canon MF743Cdw Printer
High Print Quality
30-Day Money Back Guarantee
Free & Same-Day Shipping
Super Low Price: $109.99
Canon MF743Cdw's Appearance and Structure
Dimensions
The Canon imageCLASS MF743Cdw has a medium form factor, measuring 18.8 x 18.8 x 18.4 inches WDH. So a suitable space is needed to place this printer. It weighs about 64 pounds, thus it's not easy for a lady to move it. It has an outstanding build and is entirely made of solid plastic. The overall color of the printer is black and white, simple and beautiful.
Moreover, a 5-inch color touchscreen on the control panel is clear and easy to navigate. In any case, the control panel allows you to set up copy jobs, print and scan from and to the cloud, monitor supplies, and configure security, networking, and other functions. Just like with the smartphone, you can swipe to move the icons on this color touchscreen. On the other hand, it enables users to customize the exclusive function interface and key function buttons.
Internal Structure
From up to the bottom, the printer consists of ADF, scanner, and paper cassette. Notably, on the top of the printer is the automatic document feeder, where the documents are placed for scanning or copying. Under that is the scanned flatbed. It accepts sheets or books both in single sided and two-sided scanning. Remember to close the scanner lid that stays open automatically when you don't need to print. The input tray is equipped with sliders to avoid the risk of paper jams and fit various paper sizes. And the cavity in front of the fuselage is the output tray, which outputs 75 sheets.
Functionality of MF743Cdw
Print
Print speed
The print speed varies according to the number of prints, paper size, type, etc. Anyway, this laser printer prints faster than inkjet printers. The warm-up time of Canon imageCLASS MF743Cdw is less than 13 seconds after power on. And it only takes no more than 6.1 seconds to wake up from sleep mode. The first page of a print job takes about 7.5 seconds. Based on the test data, Canon MF743Cdw prints 28 ppm(pages per minute) on letter size papers. In addition, it prints a legal paper sheet up to 22.9 ppm. Meet your needs for high efficient office work.
Print quality
Canon has always been doing a great job on color printing. Canon MF743Cdw is no exception. Whether printing documents or photos, this printer can deliver high fidelity.
Furthermore, this model can enhance texture, improving printing sharpness and saturation. The color accuracy of the picture is impressive enough, especially for a laser printer. Although its resolution is not as high as an inkjet printer, the print quality is good enough for home office.
Expandable paper handling
This Canon – imageCLASS MF743Cdw printer has an expandable paper capacity up to 850 sheets. You can load 250 sheets of paper in the standard paper cassette, which is enough for home offices and small businesses. If you need to handle a huge volume of print jobs, we recommend you install an optional paper cassette AF-1 with high capacity of 550 sheets. It helps reduce the frequency of reloading paper and saves your time.
Besides Letter size, this machine supports different media sizes including A4, A5, B5, Legal, Statement, Executive, Envelope: COM10, Monarch, C5, DL, etc. And custom size (Min. 3″ x 5″ to Max. 8.5″ x 14″) is also supported. So you can handle different print jobs easily. The supported media weights of Canon imageCLASS MF743Cdw paper cassette are 16 lb. bond to 53 lb. Bond (60 to 200g/m2). Overloading is not recommended.
Scan
Color imageCLASS MF743Cdw wireless multifunction laser printer contains copy, scan, print, and fax. Using multiple functions on a single printer simplify many daily tasks. It comes with a single-pass duplexing automatic document feeder (ADF) and a flatbed scanner. So you can use this machine for both single-sided scanning and double-sided scanning.
With a high document feeder paper capacity up to 50 sheets, this machine has an impressive scanning speed. The double-sided scanning speed is up to 51 images per minute (ipm) in black and 27 ipm in color. And for single-sided scanning, the speed is 14/28 ipm (Color/BW). High scanning speed can save your time and improve work efficiency.
The scan resolution is up to 600 x 600 dpi for pull scan and 300 x 600 dpi for push scan, which ensures high scan quality for any documents.
Copy
The copy speed is up to 28 ppm in letter and 22.9 ppm in legal. Additionally, use platen on the printer to make the first black copying in 9.5 seconds and colors in 11.1 seconds. As for ADF, it first finishes a copy in 9.9 seconds/11.8 seconds (BW/Color). Besides, the copy resolution is 600 x 600 dpi, and the max copy volume is 999 copies. If you want to adjust the copy size, you can enlarge the copied part to 25%-400% in 1% increments.
Multiple Connection Methods
Wired connection
Canon Color imageCLASS MF743Cdw printer has excellent connectivity options. For example, this model can use USB 2.0 to access wired printing. With a USB storage device, you can directly start printing without using a computer. Furthermore, connecting the machine to the router with a LAN(local area network) cable also helps to print. Just wait a few minutes for the IP address to be set automatically.
Wireless connection
With WiFi, you can connect to the printer and unload the files you want to print. NFC (Near Field Communication) makes connecting directly to the printer easy. An icon next to the color touchscreen tells you where to make an NFC connection with a mobile device. However, the Bluetooth connection is not available for this printer.
On the other hand, you can print from different devices as you want. Both Apple AirPrint, Canon PRINT Business, and Mopria Print Service applications can simply link the printer. Canon PRINT Business is a free mobile app on the App Store and Google Play Store. It allows you to scan directly from the application. Similarly, no need to download or install drivers. Apple AirPrint helps you achieve wireless printing. Mainly, you can enjoy a unique experience customized by a device Application Library. It is a particular platform of Canon imageCLASS products to set critical functions. Mopria Print Service supports printing from your Android smartphone or tablet to certified printers via WiFi. Therefore, wireless printing is easy for this Canon printer.
Information Security
Some people may concern: will this printer sell my personal information? Take it easy, Canon Color imageCLASS MF743Cdw wireless color laser all-in-one printer will not divulge your privacy. Documents are only stored in short-term memory. It helps reduce the risk of loss of confidential information. Enter the corresponding IP address in the browser. Log in to the remote management interface of the printer through the local area network. Then you can set up the security code for your printer. Check the terms conditions of Canon's privacy policy. Overall, "sell my personal information" is the least of your worries.
Cost
MF743Cdw is about $599 from Canon's official website (actual prices may be differ because of individual dealers). Among many multifunction laser printers, it is not a high price. However, manufacturers lower the price of their printers, encourage customers to buy them, and then offer expensive genuine toner cartridges. Therefore, many customers need to pay more for printing.
Canon printers use all-in-one black cyan magenta yellow toner cartridges, which are easy to install. They are Canon 055 (C/M/Y: 2,100 pages each, Black: 2,300 pages) standard capacity toner and Canon 055H (C/M/Y: 5,900 pages each, Black: 7,600 pages) high capacity toner. Because Canon toners are integrated cartridges, it helps reduce overall costs on printing supplies. The prices of a cartridge may vary from different markets and sellers. Even though the original toner is expensive, it still produces high quality printing.
Cost Per Page
However, the actual printing cost is the per-page cost of your ink and toner. Monochrome printers and color printers are not the same. Because the color cartridges print less than the black cartridges, and the counting method is easy for a monochrome printer: the price of consumables/page yield. The per page cost calculation method for a complete set of color toner cartridges is (black cartridge price/page yield) + (color cartridge price/page yield) x 3. Some printing supplies are cheap, but they also have low page yields. So their actual printing cost is still high. For instance, an original Canon 055 black toner with a yield of 2,300 pages costs $92 on Canon's official. This means the per-page cost is 4 cents. Chose the same high yield color toner for comparison. Canon 055H black is at $157. But its page yield is 7,600, so the actual print cost is 2.06 cents per page. Apparently, this high yield black Canon MF743Cdw toner saves nearly 2 cents a page and is more economical. In a word, cheap products do not equal low costs. Toner cartridges with high page yields at an affordable price are the best way to save money.
YB Compatible Canon MF743Cdw Toner Helps Save Costs
Due to the high price of original ink and toner, many people replace them with compatible ones. Especially, YB's high-quality toner can meet your needs with both top performance and better price.
High quality: YB black cyan magenta toner cartridges are highly compatible with Canon Color imageCLASS MF743Cdw printer. That said, using YB toner replacements will not cause damage to your printer and void its warranty. Notably, YB's compatible products are of reliable quality, and the materials used are eco-friendly and durable.
Low price: YB provides ink and toner at a favorable price. A whole set of Canon 055 only costs you $99.99. And the average price of a cartridge is $24.99. Instead, an original Canon 055 yellow toner is priced at $110 on the official. Buying a compatible toner cartridge can save you about half the cost.
Overview of Same Series Laser Printers
Canon Color imageCLASS MF743Cdw wireless color laser all-in-one printer is of high performance. It's an upgraded model of Canon imageCLASS MF644Cdw, offering better color accuracy and black document quality. The printer family of Canon Color imageCLASS is Canon Color imageCLASS MF741Cdw MF745Cdw MF746Cdw and LBP664Cdw. They both use the identical Canon 055/Canon 055H ink and toner. These printers also can achieve double-sided printing. And they all print wirelessly via WiFi. Whereas, LBP664Cdw is different from other Canon Color imageCLASS multifunction printers. It is a single-function (print only) laser printer.
Comparison with Other Brands Printers
Canon Color imageCLASS MF743Cdw is one of the latest all-in-one color machines offered by Canon. Let's compare it with the latest color laser printers from Brother, Canon and Xerox. Then you will know which one is the best choice for you.
Brother HL-L3770CDW is the newest color laser printer from Brother. It has outstanding printing quality. But it's not a good choice for a busy or medium office because the max cartridge yield is only 3,000 pages. And the print quality of color documents is not as good as Canon MF743Cdw.
HP Color LaserJet Pro MFP M479fdw is capable of single-pass double-sided printing and scanning. The page yields of M479fdw toner cartridges range from 2,100 to 7,500. Suit for a small or medium business. But the price of compatible HP Color LaserJet Pro MFP M479fdw toner cartridges are much higher than that of Canon MF743Cdw toner cartridges.
Xerox C235/DNI is one of the newest Xerox all-in-one color laser printers. With an excellent print resolution up to 1200 x 2400 dpi, it can provide bright and vivid color print results. But few toner cartridge suppliers offer compatible toner cartridges for this machine.
Therefore, Canon Color imageCLASS MF743Cdw is our most recommended all-in-one color laser printer. Want to compare more money-saving home printers? See our blog Best Printer for Home Use with Cheap Ink in 2023.
Conclusion
Pros:
Color imageCLASS MF743Cdw wireless multifunction laser printer handles more workloads than other home printers.
Particularly, it produces black and white documents of high quality.
Because of its high capacity, you can use the Canon printer toner for a long time. That is to say, infrequently replacing cartridges keeps the whole printing cost down.
Canon Color imageCLASS MF743Cdw wireless color laser all-in-one printer helps to simplify many daily tasks. Various functions such as copy scan and fax save the trouble of changing machines.
Cons:
Color cartridges are more expensive than black ones.
In addition, because this printer is relatively heavy, it occupies a large area. Not suitable for frequent handling and requires sufficient storage space.
And it can not connect to Bluetooth to print.
To sum up, this Canon printer is an excellent office supply for small or medium size businesses. It can provide you with colorful images and high quality texts. It is a good choice for those who print black more than color. With multiple connection ways, this machine can make printing more easy and convenient. If you already have this printer, then our compatible Canon MF743Cdw toner cartridges are great to keep costs down.
PS: This printer has a limited warranty and is subject to Canon's terms conditions.